The prices of altcoins have risen over the last 24 hours, and the highest surge came for Near Protocol (NEAR) cryptocurrency as it surged as much as 31 per cent on Friday, December 24.
Altcoins like Terra's Luna (LUNA) and Fantom (FTM) crypto surged 15.3 per cent and 16.9 per cent, respectively.
Although there was no development about the Fantom crypto, its price surged as altcoins often move in tandem.
Near Protocol has announced that Terra is all set to integrate UST stablecoin. Stablecoins are pegged to the US dollar, and the integration can enable users to trade digital assets like UST as a medium of exchange.
Also Read: FJB crypto volume skyrockets over 1000%; Know price prediction
The surge in altcoin prices could be due to investors betting on the rapidly evolving cryptocurrency market and the increasing acceptance of digital assets and blockchain technology.
What is Fantom crypto?
Fantom crypto is the native utility of token of Fantom, a blockchain-based platform capable of running smart contracts.
The Fantom project is capable of more advanced transactions and offers more features than simply exchanging cryptocurrencies.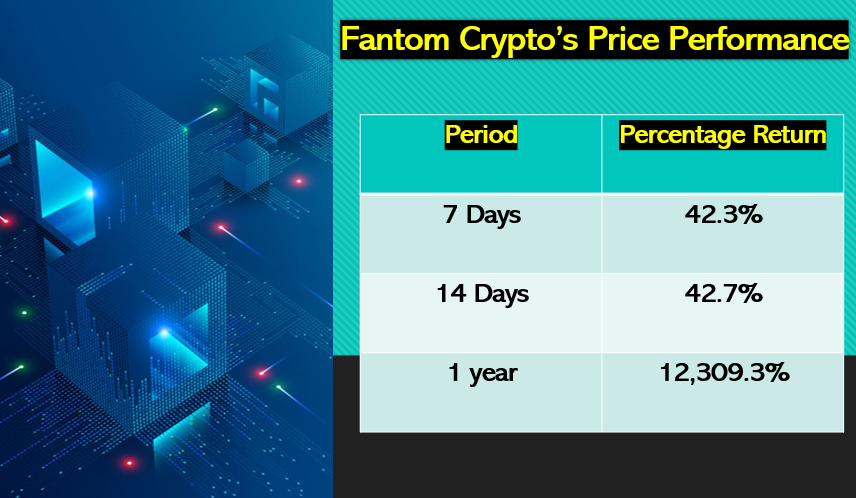 © 2021 Kalkine Media®
Fantom addresses issues related with smart contracts and reduce transaction speed.
FTM crypto has a circulating supply of 2.5 billion tokens, and its maximum supply is around 3.2 billion tokens.
Bottom line
Fantom crypto could get the increased attention of crypto enthusiasts due to its efficient processing of transactions. The project is capable of handling thousands of transactions each second.
On October 28, Fantom crypto achieved an all-time high (ATH) of US$ 3.46 per token, and at the time of writing, FTM crypto was trading at US$ 2.04 apiece.
In the last seven days, Fantom crypto's price surged 42.3 per cent, and it seems bullish. If the momentum continues, the cryptocurrency could surpass its ATH in 2022.
Also Read: Know COTI crypto's price prediction as its volume skyrockets




Read More:As altcoins rise, know Fantom crypto's price prediction