Dogecoin price prepped for a hefty price spike after it returns to $0.20
Bullish divergence is present, suggesting a downside move is likely to terminate.
Imperative that Dogecoin not close below the $0.15 value area.
Dogecoin price continues to trade at the upper bounds of a capitulation zone – something it has done since the beginning of December. Despite the bearish nature of Dogecoin's price action, bears have been unable or unwilling to drive DOGE lower.
Dogecoin price needs to hit $0.20 before it can rally to $0.35
Dogecoin price has two primary scenarios coming up that could see it repeat the price action it experienced in early 2021. The first is a hypothetical long entry at $0.20, with a stop loss at $0.18 and a profit target at $0.35. This trade option would complete two objectives. First, it would confirm the breakout above a double-top. Second, and most important, it would convert Dogecoin back into a bull market after crossing above the current bear market trend line.
The hypothetical long setup is invalidated if Dogecoin price return to $0.155 before the entry. However, if a fall to $0.155 occurs, a capitulation move is undoubtedly on the horizon, with a possible move and flash-crash to the $0.09 value area.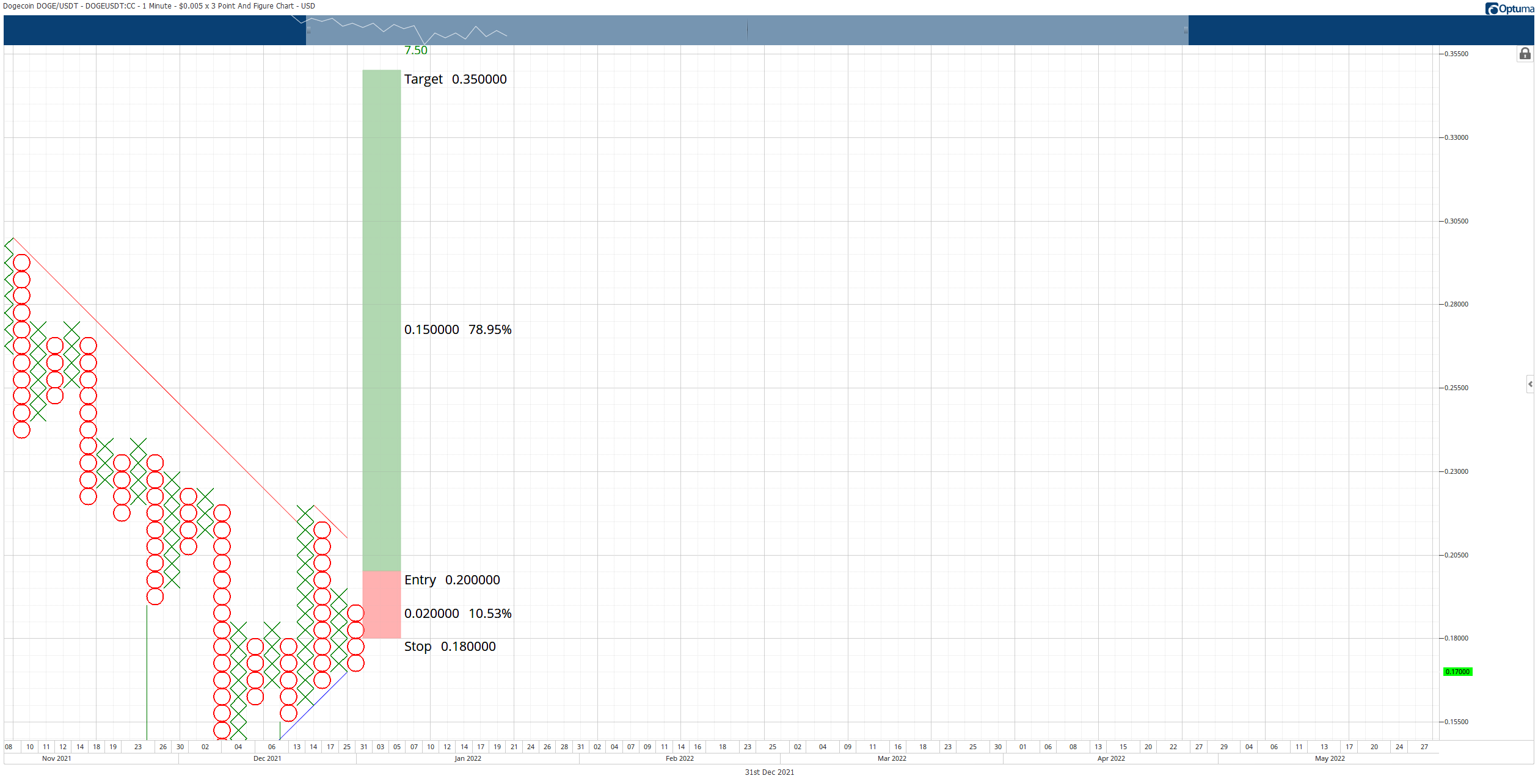 DOGE/USDT $0.005/3-box Reversal Point and Figure Chart
However, Dogecoin could develop a nasty-looking bear trap by moving lower. If Dogecoin were to fall to $0.15, a Bullish Shakeout setup would occur. The Bullish Shakeout is a rare and powerful reversal pattern that terminates downtrends and corrective moves. Confirmation of that move would need to be established to ensure that a probable setup would be appropriate.


Read More:Dogecoin prepped for a big launch, DOGE to rally 75%