As the crypto market slowly gained momentum on Wednesday morning, the price of Bella Protocol (BEL) crypto soared 55 per cent over the previous day, and it was trading at US$ 1.43 apiece at the time of writing.
Also Read: What is Firepin token? All you need to know about FRPN crypto
Due to the price surge, the BEL crypto caught investors' attention, and its 24-hour volume was up by 180 per cent to US$ 661.6 million. Meanwhile, the market cap catapulted to US$ 69.23 million at 2 AM EST.
The valuation of the global virtual currency market has increased by three per cent in the last 24 hours to US$ 1.25 trillion. Due to high volatility, the crypto market cap keeps fluctuating either positively or negatively.
What is Bella Protocol?
It is a platform that offers a wide variety of Decentralized Finance (DeFi) products and wants to make crypto banking accessible to all. The protocol aims to enhance the user experience by providing higher transaction speed and charging a nominal fee compared to its rival platforms based on blockchain technology.
As per CoinMarketCap, Bella Protocol debuted in September 2020, and it was the first project to be distributed via Binance's Launchpool platform. The protocol has attracted funding from notable organizations like Arrington XRP Capital.
Bella Protocol's major characteristics are providing a suite of DeFi products and a user-friendly interface. The Ethereum network secures the BEL crypto, which is an ERC-20 token. This is now protected by a large mining network, which ensures that the network remains in agreement on valid and invalid transactions.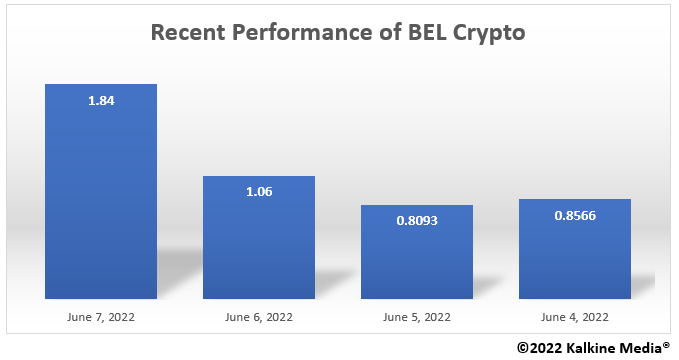 The BEL crypto acts as the governance token as Bella Protocol is backed by the crypto holders, who can vote on issues related to the platform and contribute to its governance.
The governance token also acts as a reward for users who, among other things, participate in staking.
Bottom line
The Bella Protocol token has a total supply of 100 million BEL tokens and a circulating supply of 13.25 million tokens.
A significant amount of the initial supply was dispersed through a Binance Launchpool, with participants receiving 5 per cent of the overall supply. Furthermore, 6 per cent of the overall supply was sold privately, and 2 per cent was sold at a public auction.
Despite the significant rise in the price of the BEL crypto, investors must research before investing as the prices may drop anytime due to increased volatility in the market.
Also Read: Why is Harmony (ONE) crypto rising today?




Read More:What is Bella Protocol (BEL) and why did it zoom over 50%?