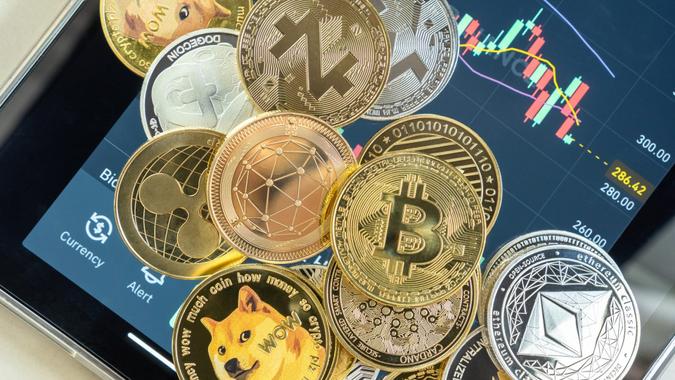 Chinnapong / Getty Images
Cardano (ADA) is a cryptocurrency currently worth under $1 USD per coin. However, investors have realized a 200% return on investment since 2021, making Cardano an altcoin worth a second look. The coin has a market cap of roughly $20.5 billion in June 2022. And, while it has dropped in price from a high of $1.59 a year ago, innovations on the platform promise growth.
What is our Cardano price prediction for 2022 and beyond? And what changes to the platform could help create a bull run for the cryptocurrency this year? Will Cardano reach $10 this year? Read on for our Cardano price prediction and to determine whether you should buy this altcoin right now.
What Is Cardano?
In February 2022, GOBankingRates.com called Cardano "one of the notable firms to watch" for the year.  The unique process and cutting-edge technology of the platform, which houses ADA altcoins, has caught the eye of tech experts and investors, alike. GOBankingRates called Cardano the first peer-reviewed blockchain. Created by a nonprofit organization under the guidance of Charles Hoskinson, a co-founder of Ethereum, Cardano was reviewed by a team of scientists and academics before launch.
The platform uses proof-of-stake technology, rather than the energy-hungry, inefficient proof-of-work algorithm, to grant miners more mining power based on the amount of coin already in their possession. Cardano is on the path to being able to process up to a million transactions per second, according to GOBankingRates.com. Cardano is considered one of the more energy efficient cryptocurrencies on the market.
A Short History of Cardano
Cardano rolled out its platform in five distinct phases. The ultimate goal is to have a multi-asset ledger with verifiable smart-contracts for decentralized apps. The smart contract functionality arrived in the third phase, with the Cardano Alonzo upgrade.
Smart contract functionality would give businesses and developers the opportunity to use the blockchain to support NFTs, crowdfunding and DeFi Dapps, as well. It could also introduce capabilities such as IoT monitoring and cost-efficient supply chain management.
Investors seem to like the way Cardano is progressing through its phases, having completed the Byron (Foundation) phase, and the Shelley (Decentralization) phase. The next phases, in order, are Goguen (Smart Contracts), and then Basho (Scaling) and finally, Voltaire (Governance).
You might have noticed that the phases are cleverly named after famous personalities in history. The token of Cardano, ADA, is, likewise, named after 19th century mathematician ADA Lovelace, while the blockchain is named after Gerolamo Cardano.
While all of this is an interesting matter of trivia, investors want to know what Cardano will be worth in 2022.
What Will Cardano Be Worth in 2022?
Like many cryptocurrencies, Cardano experienced a significant dip in 2022, dropping from its high of $3.09 in September 2021 down to just over 60 cents per coin in June 2022, according to CoinGecko.com statistics. However, only 75% of its maximum supply of coins has been mined, which means there is still potential for investors to accrue coins.
The advanced capabilities of smart contracts on the platform could promise to drive ADA's price higher in 2022. CoinPriceForecast predicted that ADA will gain some value in 2022 but won't approach its record high over $3-plus. The site predicted it will reach $1.43 by the end of 2022.
Meanwhile, analysts at LongForecast.com believe ADA won't even hit $1 in 2022. And WalletInvestor.com predicted the coin could reach $2 in 2022. These numbers are a far cry from the coin's high and even further from the $10 value many investors are hoping for. If Cardano does hit $10, it most likely won't be this year, next year, or any time soon.
What Is Cardano's Price Prediction for 2025?
Will Cardano continue its climb in coming years? Forecasters believe it could. CoinPriceForecast.com said that Cardano could reach $2.67 by 2025, according to a report from The-Sun.com.
What Will the Price of Cardano Be In 2030?
It is difficult to project crypto prices nearly a decade out. But modeling which evaluates the price of Bitcoin compared to other cryptocurrencies shows that Cardano could reach $3.31 by 2030, InvestingCube.com reported.
However, keeping in mind that Cardano was once the third largest cryptocurrency — behind Bitcoin and Ethereum — if developments work out and the blockchain continues moving through its phases it could reach as high as $7.49 with enough investor support. Right now, Cardano is the world's sixth largest cryptocurrency.
What's a Good Price To Buy Cardano?
If you had bought Cardano when it launched in 2017, you'd have paid roughly 10 cents per ADA. If you invested $1,000 then, you'd have roughly $6,500 now. Some experts say that, with the expected changes coming on the platform and the culmination of the two final development stages, the cryptocurrency is a deal right now at a sub-$2 price.
As the blockchain gets faster and more efficient, its real value to users will rise, and ADA's value should rise with it. The experts at Motley Fool suggest that Cardano could reach $2+ again, making it a good buy right now.
Of course, cryptocurrency is highly volatile and a risky investment at any price. On the bright side, Cardano looks to be reversing course right now, after steadily dropping in 2022. This could be a "set-it-and-forget-it" investment where you park your money and let it grow at least through 2030.
Conclusion
After a sharp drop in 2022, the cryptocurrency Cardano looks like it may be on the rise again. Experts suggest that buying the coin while it is under $2 could offer tremendous value and a high return-on-investment in the future.
However, cryptocurrency is volatile and anything could happen. Never invest more than you can afford to lose.
If you want to invest in Cardano, you can purchase it on some of the best crypto exchanges, including Binance, Coinbase, Nexo, Crypto.com and Kraken. You can also invest on a platform like eToro, which enables you to invest in a basket of cryptocurrencies, much like ETFs are used to purchase collections of stocks.
Information is accurate as of June 9, 2022.
Our in-house research team and on-site financial experts work together to create content that's accurate, impartial, and up to date. We fact-check every single statistic, quote and fact using trusted primary resources to make sure the information we provide is correct. You can learn more about GOBankingRates' processes and standards in our editorial policy.


Read More:Cardano (ADA) Price Prediction 2022