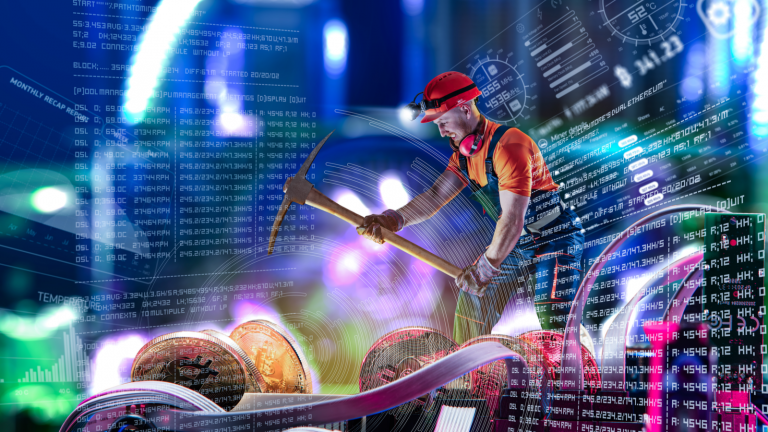 Source: Yev_1234 / Shutterstock
Shares of cryptocurrency miner Marathon Digital (NASDAQ:MARA) are down nearly 20% today as the selloff in the crypto market accelerates. MARA stock has also been impacted by reports that its Bitcoin (BTC-USD) production was weaker than expected in May.
Over the weekend, more than $200 billion was wiped off the cryptocurrency market amid news that crypto lending platform Celsius is preventing clients from withdrawing their digital assets. The price of BTC is down 14% today to less than $24,000, its lowest level since December 2020. Ethereum (ETH-USD), the second-largest cryptocurrency, is down nearly 20% to $1,200.
The steep drop in crypto prices is dragging MARA stock lower, as is news that the Las Vegas-based company produced 47% fewer Bitcoins than expected in May. Marathon Digital's share price is down 80% year-to-date to trade just under $6.50 per share.
What Happened With MARA Stock
Celsius is one of the biggest companies offering crypto lending. According to CNBC, it had "more than $8 billion lent out to clients and almost $12 billion in assets under management as of May." It is known for offering higher-than-average interest rates on deposits, promising yields as high as 18%.
However, over the weekend, Celsius said in a memo to clients: "Due to extreme market conditions, today we are announcing that Celsius is pausing all withdrawals, Swap, and transfers between accounts."
This sends a concerning signal to investors, as the value of the company's assets has been reduced by half since last October. Its native digital currency, Cel, has lost 97% of its value since then. Troubles at Celsius come shortly after the $60 billion meltdown of stablecoin Terra (LUNA-USD).
The collapse of Terra and subsequent problems at Celsius are heightening fears that the entire cryptocurrency market could collapse. There are also early reports today that crypto exchange Binance is halting withdrawals of Bitcoin due to a "stuck transaction."
According to CoinMarketCap, the total market capitalization of the sector has fallen below $1 trillion for the first time since February 2021.
At the same time, Marathon Digital blamed the sharp decline in its May Bitcoin production on energization delays in Texas and maintenance issues at one of its facilities. The company said it has not sold any Bitcoin since October 2020 despite the current price decline. As of June 1, it held 9,941 BTC, a value of approximately $315.1 million.
Why It Matters
The steep fall in the price of MARA stock shows how the current selloff in cryptocurrencies is impacting companies that have any exposure to the space. Marathon Digital's disappointing Bitcoin mining numbers in May are adding fuel to the fire when it comes to investor sentiment turning against cryptocurrencies.
Going forward, more pain could be in store for Marathon Digital and its shareholders if the crash in crypto prices worsens. That it has held onto its Bitcoin holdings even as the price of BTC has fallen 65% in the past eight months could be bad news for the company's finances. The halt in withdrawals at crypto lender Celsius and the collapse of Terra have investors and the entire market on tenterhooks.
What's Next for MARA Stock
MARA stock plunged today along with the entire cryptocurrency sector, bringing its losses so far this year to more than 80%. Investors would be best advised to stay away from Marathon Digital or any cryptocurrency related stocks until the dust settles and it becomes clear just how bad the rout in digital coins and tokens will get.
On the date of publication, Joel Baglole did not have (either directly or indirectly) any positions in the securities mentioned in this article. The opinions expressed in this article are those of the writer, subject to the InvestorPlace.com Publishing Guidelines.


Read More:Why Is Marathon Digital (MARA) Stock Down 20% Today?