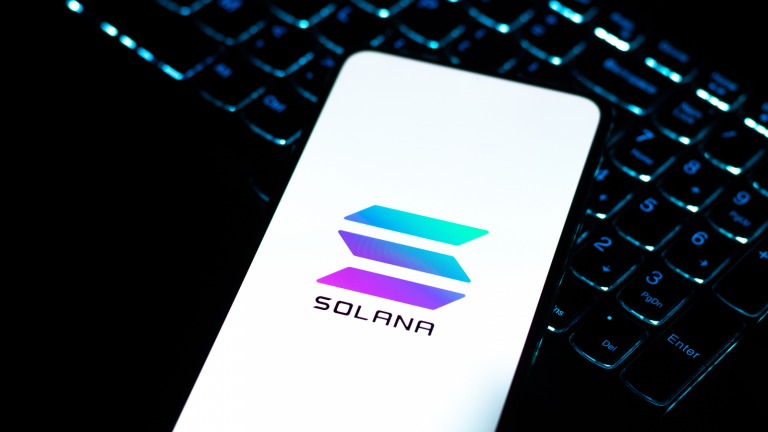 Source: sdx15 / Shutterstock.com
Solana (SOL-USD) is shaking off bearish market attitudes with a big announcement. The layer-1 network — one of the leaders in the industry — is veering into hardware suitable for everyday life. A Solana-built smartphone is on the way, offering investors a way to fully entrench themselves into the growing world of Web 3.0. Meanwhile, SOL crypto prices are getting a price boost as the news makes the rounds.
The Solana network makes up one of the most well-known blockchain ecosystems in the world, its SOL crypto the ninth-largest by market capitalization. A suitable competitor to the likes of Ethereum (ETH-USD), Solana seeks to offer all the same services as the monolithic decentralized application (dApp) network at a higher level of performance.
Utilizing a proof-of-stake consensus mechanism, Solana is capable of processing many a transaction at a fraction of the power of Ethereum. It also allows the network to scale up the amount of transactions it can process at once. While Ethereum is only capable of several dozen transactions per second, Solana can process thousands. The network continues to supplement this performance with other attractive features. For example, Solana brought non-fungible tokens (NFTs) to the network to compete again with Ethereum's dominance over the niche.
However, the network is not without its drawbacks. Solana has come under fire multiple times in the last year over its all-too-frequent outages. Indeed, Solana has seen a whopping eight outages so far this year; these outages range in length, but they tend to be several hours at the least. One outage in September of last year took the network down for nearly a full day.
Solana Furthers Web 3.0 Expansion With Smartphone Hardware
Solana developers aren't being shaken by any criticism, choosing instead to continue pushing the envelope for blockchain and Web 3.0. Today, the team is taking a massive step forward, introducing investors to a major breakthrough for the burgeoning "new wave" of the internet.
Earlier this week, the project's developers announced a Solana-equipped Android smartphone called Saga. A true first for blockchain projects, the phone marks one of the biggest opportunities to simplify Web 3.0 for wider demographics.
The phone, pricing in at about $1,000, is a modified version of a phone by OSOM. Most notably, Saga will include a software stack called Solana Mobile Stack (SMS). With SMS, developers will have all the necessary tools to create user-friendly Web 3.0 applications specific to mobile phones. Solana has plans to house these SMS dApps in a dedicated Web 3.0 dApp store.
The announcement is a pretty huge moment for Web 3.0 bulls. Previously, the decentralized web of applications comprising Web 3.0 has been relegated to the desktop. There hasn't been a large-scale effort to move to smartphones and other mobile devices, likely because of a lack of mobile-friendly blockchain infrastructure.
Now, Solana is taking these first steps. Developers are certain to pivot toward SMS dApps in an effort to reach a wider demographic of users who want the convenience of blockchain on their phones. One of the first dApps Solana has announced is Solana Pay, a QR-code based quick-payments system. The phone is planned for release in 2023.
On the heels of the announcement, the SOL crypto is seeing a bump upward in price. The coin is gaining about 8%. Volume is surging today as well, with over $1.8 billion in SOL swapping hands — a 30% increase over yesterday.
On the date of publication, Brenden Rearick did not have (either directly or indirectly) any positions in the securities mentioned in this article. The opinions expressed in this article are those of the writer, subject to the InvestorPlace.com Publishing Guidelines.




Read More:Solana Announces Web 3.0 Smartphone, Prompting SOL Crypto Gains