The traditional finance sector has existed forever and around the world, there are different variations of currency, ranging from notes to coins, virtual currency and many more. For years, the traditional finance world has been running on fiat currency and different types of investments.
Then in 2009, the cryptocurrency market started with Bitcoin. Since the inception of bitcoin, there have been different crypto stocks and projects for different investors depending on their interests.
There are altcoins like Ethereum, Solana, and many more. There are stablecoins like USDT. There are NFTs, DeFi and DEX projects, meme tokens, blockchain games (also known as play-to-earn games) and many more. Cryptocurrency has a lot to offer, and investors are ready to dive in.
With the cryptocurrency market being wide and filled with projects, investors are trying out different investment options that have the potential to grow like the top ones. This article highlights cryptocurrency altcoin that you should consider –  RoboApe (RBA) and Fantom (FTM).
Fantom (FTM) Continues To Make Crypto Affordable
Fantom is a smart contract platform that enables users to obtain services promptly and affordably.
The blockchain was created to make it simple for users to build cross-platform decentralised applications (DApps) and blockchain solutions.
The DeFi solutions and services offered by Fantom are advantageous to developers because they are delivered swiftly and inexpensively. It can be used in place of Ethereum as a permissionless platform. It is decentralised and uses a proof-of-stake technique to secure the network.
The platform's native utility token is called FTM. One of the top tokens predicted to reach the top 10 in a year is FTM. In addition to earning governance rights on the Fantom platform, FTM can be used for a variety of network transactions.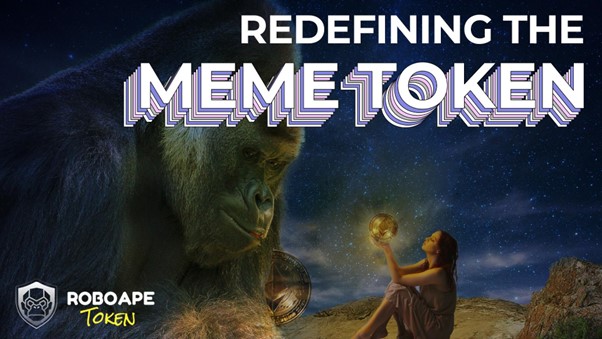 Why Meme Coin RoboApe (RBA) Might Be Successful
Meme tokens are a huge part of the cryptocurrency market. Starting in 2013, with Dogecoin as the very first meme token in the crypto market, meme tokens were often dismissed and disregarded.
Meme tokens are cryptocurrency tokens created based on an internet meme, joke or sensation. Usually, meme tokens often rely on the relevance of the joke and tend to die out when the joke dies.
These tokens are very volatile as their prices are not very stable, and at the same time, they don't have real-life applications and are not problem-centric like other cryptocurrencies.
However, this changed in 2021 when meme tokens had positive price increases in 2021. Now, many investors are trying them out. At the same time, new meme tokens are coming up to change the meme token reputation. One of them is RoboApe (RBA).
A community-driven project, RoboApe is a cryptocurrency stock. It is a long-term initiative created to alter and realign the current cryptocurrency mechanics and operational procedures.
To prevent the team members from seizing complete control of RoboApe's governance, RoboApe also removes the team incentives and monetisation strategies.
A meme token with a unique utility that offers its holders more than it takes was the reason the RoboApe ecosystem was created. The key to opening up a variety of commercial opportunities in the areas of crediting, lending, and liquidity is the RoboApe ecosystem. This ecosystem intends to do this by encouraging peer-to-peer commerce and local government.
The cryptocurrency platform called RoboApe provides its customers with DeFi, DEX, education, NFTs, eSports, and gaming. The RBA platform gives the community access to developing DApps, smart contracts, and continuous improvement. RBA is the platform's native token.
It is an ERC-20 meme token that offers investors a variety of advantages, including taking part in governance and the DAO, earning rewards for holding the token, taking part in the creation and exchange of NFTs, and receiving rewards for competing in eSports.
Fantom might be a very profitable token to invest in but meme currencies are all the hype right now. Among the other meme tokens available on the cryptocurrency market, RoboApe stands out and you can still join the ongoing presale.
Join RoboApe's Presale:
Join Presale: https://presale.roboape.io/register
Website: https://roboape.io
Telegram: https://t.me/ROBOAPE_OFFICIAL
Disclaimer: This is a paid release. The statements, views and opinions expressed in this column are solely those of the content provider and do not necessarily represent those of NewsBTC. NewsBTC does not guarantee the accuracy or timeliness of information available in such content. Do your research and invest at your own risk.


Read More:Why You Might Want To Consider Adding RoboApe (RBA) And Fantom (FTM) To Your Crypto Wallet