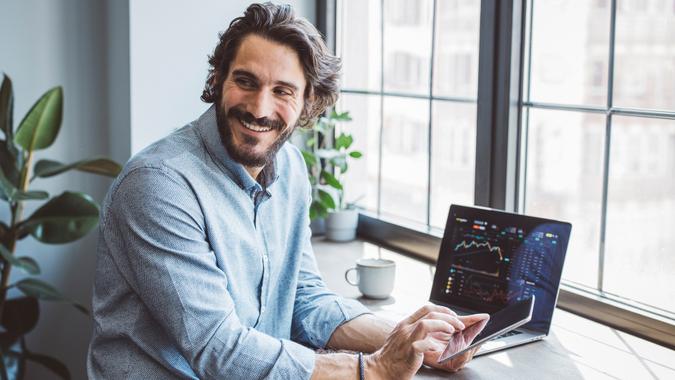 svetikd / iStock.com
Crypto.com rewards its new and existing customers with various promotions, including referral codes and bonuses.
Crypto.com referral codes are a mix of unique numerical and alphabetical codes or links that can be shared to invite friends to the platform. Crypto.com bonuses are extra reward incentives that users are given for completing a certain task or signing up for a particular product.
Where Can You Find Your Crypto.com Exchange Referral Code?
Existing users can follow the below steps to retrieve their referral codes.
Log into Crypto.com Exchange on the app or online.
Toggle over to the "Referral" tab.
Copy the code revealed under "Your Referral Code."
Send it to others to use when they sign up.
What Do You Get for Crypto.com Exchange Referrals?
The referrer and the person referred — or referee — can receive bonuses. Both must satisfy the same conditions. Here's how each works. 
Referrer Bonus
Once the requirements are met, referrers will receive a trading fee commission. This is calculated as 50% of the referred person's net trading fees over the following 12 months after signing up.  
There is also a separate bonus. The referrer will be awarded a bonus in CRO tokens if the person referred stakes at least 1,000 CRO themselves.
Note that the referrer's bonus is based only on the referred person's first amount of CRO staked. Any bonus the referred person has received in relation to the sign-up process will not be included in their first CRO stake. 
The structure and USD equivalents are shown below. 
| CRO Referral Bonus in USD | CRO Staked by the Referee |
| --- | --- |
| $10 | 1,000 to 4,999 |
| $50 | 5,000 to 9,999 |
| $100 | 10,000 to 49,999 |
| $200 | 50,000 to 99,999 |
| $400 | 100,000 to 499,999 |
| $800 | 500,000 to 999,999 |
| $1,000 | 1 million to 4.99 million |
| $2,000 | 5 million+ |
Referee Bonus
New users who successfully sign up must include the referral code when registering. Following this, they will receive their bonus only if they stake at least 1,000 CRO. The bonus is based on their first amount of CRO staked, and the reward structure in USD is shown below.
| CRO Referral Bonus in USD | First CRO Stake |
| --- | --- |
| $10 | 1,000 to 4,999 |
| $50 | 5,000+ |
What Are the Terms for Crypto.com Exchange Referrals?
Referrers must satisfy the following conditions to receive bonuses:
They have opened a Crypto.com Exchange account themselves.
Know Your Customer (KYC) conditions are verified at the advanced level.
They have staked Crypto.com Coin (CRO) on the Crypto.com Exchange.
The person referred must also:
Satisfy KYC conditions at the advanced level
Stake at least 1,000 CRO on the Crypto.com Exchange
$25 Referral Bonus
Both the referrer and referee can earn a $25 bonus in CRO on the Crypto.com app. The referrer should follow these steps.
Earning the $25 Bonus

Open the Crypto.com app.
On the "Rewards" tab, click the lion icon.
Choose "See Details" in the "Referral Bonus" section.
Once that's completed, the person referred should follow that link to a page that prompts them to enter their email address. They have to download the app and fill in their other details to complete the registration and verify KYC requirements. They must complete this process within 72 hours of receiving the link. 
Terms and Conditions for Crypto.com's $25 Bonus
The referred person must reserve a Metal Crypto.com Visa Card to receive this bonus. The $25 reward will only be unlocked once CRO has been staked using the card.
Final Take
Crypto.com has an exhaustive list of terms and conditions that must be met in order to claim bonuses. That's not to say it isn't worthwhile, but the user should coordinate the process properly with any people they want to send a referral to.
FAQ
Here are some common questions people ask about Crypto.com promotional offers.
Does Crypto.com have a referral code?

Yes. It can be found on the Crypto.com app and the Crypto.com Exchange app in the "Rewards" section and the "Referrals" section, respectively.

How do I use my free $25 on Crypto.com?

The $25 bonus on Crypto.com is unlocked once a user stakes CRO on their Metal Crypto.com Visa Card. Customers can then use it as they please.

What is the best Crypto.com referral code?

The best referral code is for Crypto.com Exchange, available online or in the app in the "Referrals" section. Referrals can earn users up to $2,000 worth of CRO.

Does Crypto.com have a $25 bonus, too?

Yes. Crypto.com offers a $25 bonus for both the referrer and referee when requirements are met.
Read More:
Crypto.com Referral Codes and Bonuses