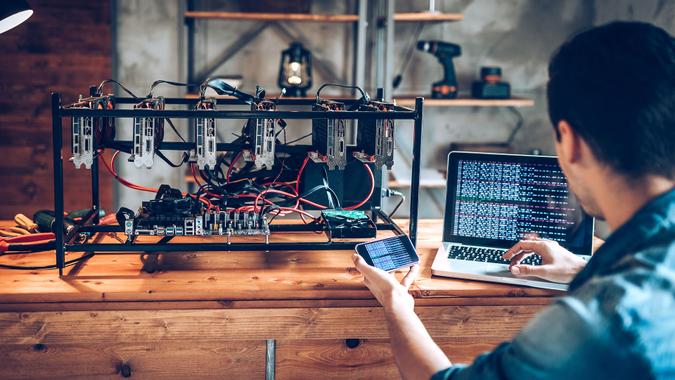 eclipse_images / Getty Images
Bitcoin mining games are primarily for educational and entertainment purposes. They teach users about mining rigs, what processes to follow and how to set up and grow businesses — solid general information about how Bitcoin mining works.
3 Popular Bitcoin Mining Games
In some circumstances, these games also offer the potential to earn a tiny stake of the Bitcoin cryptocurrency. Here are three of the most popular Bitcoin mining games right now.
RollerCoin
RollerCoin is among the most popular Bitcoin mining games, with over 200,000 sign-ups and thousands of people playing it daily. It's a Bitcoin mining simulator game that allows users to earn Bitcoin at no initial cost — new users can earn free Satoshi straight away. 
A Satoshi is a term given to a fraction of a Bitcoin. Technically, 1 Satoshi is equal to 0.00000001 Bitcoin.
By playing and winning games, users receive rewards that are instantly transferable to an external wallet. Users can also choose to upgrade their virtual mining equipment and operations in order to increase their overall rewards. 
Additionally, those playing the RollerCoin game can earn several different crypto assets, including: 
Finally, to earn even more from RollerCoin, users can invite their friends to the game and redeem rewards from their activity. When one user invites another to play, RollerCoin will disperse 25% of the new user's mining rewards and 15% of their in-game purchases to the invitation sender.
RollerCoin's game is fun and challenging at the same time. It simulates what it takes to set up a real mining facility as well as the problems that occur along the way. 
RollerCoin is useful for teaching people to understand the complexities of Bitcoin mining operations. It also incentivizes its users through monetary rewards, unique events and prizes.
Crypto Idle Miner
Crypto Idle Miner is a simulation game that allows users to mine up to 50 cryptos and altcoins virtually. It's available on the Google Play Store and Apple App Store. Players can set up their own Bitcoin mining facilities and start crypto companies, reinvesting what they've earned. There is also a leaderboard within the game that rewards players who perform well. 
The game teaches crypto mining fundamentals and training, but it's primarily for entertainment purposes. The only crypto token that users can actually earn using the Crypto Idle Miner app is HORA Token. However, this is going to be switched to BSC, a Binance-pegged token, which is more stable for transactions and is tied to the USD.
Bitcoin Miner
Bitcoin Miner is another simulator game in which education and earning rewards cross paths. It teaches the basics of growing a crypto mining farm. Gamers have to make strategic decisions to operate and run their very own virtual mining farm. 
Starting recently, players can earn real Bitcoin by claiming rewards in the app through a partnership with Zebedee. Users earn rewards by playing and can redeem Bitcoin by doing the following:
Download the Zebedee app and claim a Gamertag.
Then, go to the Bitcoin Miner app and select "Cash Out" at the top of the screen.
Choose "Redeem" and receive the earned Bitcoin.
Final Take
Bitcoin mining games are a fun way to learn about the world of crypto, and they provide an opportunity to earn some crypto — albeit in very small amounts. Anyone trying out new games should watch out for red flags, such as a required deposit to play a Bitcoin mining game, as crypto scams are more prevalent than ever.
Bitcoin Mining Games FAQ
Here are some common questions people ask about Bitcoin mining games.
Can you earn bitcoins by playing games?

Yes. Although the amounts are generally very small, it is possible to earn bitcoin by playing games.

What games give you bitcoins?

RollerCoin and Bitcoin Miner are games that distribute bitcoin rewards to players.

Can I mine bitcoin for free?

Real bitcoin mining requires vast amounts of computational power and energy resources that can be extremely costly. Bitcoin mining games, however, can reward users without any sort of investment.

Can I mine one bitcoin?

You cannot mine one bitcoin at a time because bitcoins are mined by the block. There are 6.25 bitcoins in each block.
As the current price of one bitcoin hovers around $20,000, it would be near impossible to attain that much crypto from bitcoin mining games.
Our in-house research team and on-site financial experts work together to create content that's accurate, impartial, and up to date. We fact-check every single statistic, quote and fact using trusted primary resources to make sure the information we provide is correct. You can learn more about GOBankingRates' processes and standards in our editorial policy.
Read More:
Free Bitcoin Mining Games: Learn and Earn