Binance Coin (BNB) was launched via an ICO from June 26 to July 3, 2017. BNB was initially launched as an ERC-20 token on the Ethereum blockchain with a total supply of 200 million tokens. As hard as it might be to believe now, the ICO price for the tokens was 15 cents each. That was clearly a great opportunity but is now a good time to buy Binance Coin too? It depends on your risk tolerance and your conviction in the Binance ecosystem.
In early 2019 Binance launched its own blockchain and swapped its ERC-20 tokens at a 1:1 ratio for Binance blockchain native tokens (BNB). Beginning in late 2017, Binance instituted a burn program that will continue until the total supply has been reduced from 200 million to 100 million. This burn program alone is responsible for adding quite a bit of value to BNB. 
It's impossible to speak about Binance Coin (BNB) without mentioning the rest of the Binance ecosystem. The Binance ecosystem includes the Binance exchange, the largest crypto exchange in the world by volume. 
It also includes investment and fundraising through Binance Labs and the Binance Token launch platform. Digital asset research with a cryptocurrency information platform, Binance research, provides institutional-grade research reports and the Binance academy. Finally, it includes Binance's blockchain charity foundation and the Trust wallet, Binance's official crypto wallet.
The Binance ecosystem is important because its add to the value of BNB. As the Binance ecosystem expands, the use cases for BNB may also expand, making it more valuable. 
You can identify many reasons why BNB deserves to be one of the top cryptocurrencies. With everything it has going for it, it seems like a safe bet that its best days are yet to come, which is very good for investors.
Is Now a Good Time to Buy BNB?
Whether or not now is a good time to buy Binance Coin can be a difficult question to answer. For some investors, it could be and for others, maybe not. A lot depends on each investor's risk tolerance and time horizon. 
If you don't mind taking some risks and can tolerate possible further price declines, then this might be a good time to start investing. Dollar cost averaging is an excellent strategy for building a position over time. Investors who dollar cost average make small, regular purchases for a prolonged period to average out their cost basis instead of one or two large buys. This strategy eliminates the need to try and time the market while simultaneously ensuring a low overall average price. 
Bitcoin and the entire crypto market remain mired in a bear market that could last for a long time. Bitcoin is down about 70% from the November peak, and the possibility remains that it could go lower. No one knows where or when Bitcoin will bottom, but it's possible Bitcoin could be close to a bottom right now.
However, Bitcoin declined around 85% from its peak during the previous bear markets. A similar percentage drop would put the price of Bitcoin down around $10,000, a 50% decline from the current price. If that were to happen, that would most likely also drop the price of BNB significantly.
How Long Will the Crypto Bear Market Last?
The truth is no one knows how long the bear market will last or where Bitcoin will bottom. After the collapse from $28,000, Bitcoin hit a low of $17,622 (Binance) on June 18. That equates to a decline of almost 75% from the November peak. Could that be close to a bottom? Sure, or there could be more pain to come.
Looking back at the last two bear markets, Bitcoin declined approximately 85%. So, a similar percentage drop in this bear market would put the price of Bitcoin near $10,000. That would be an additional 50% decline from the current price. 
                                                            Bitcoin Weekly Chart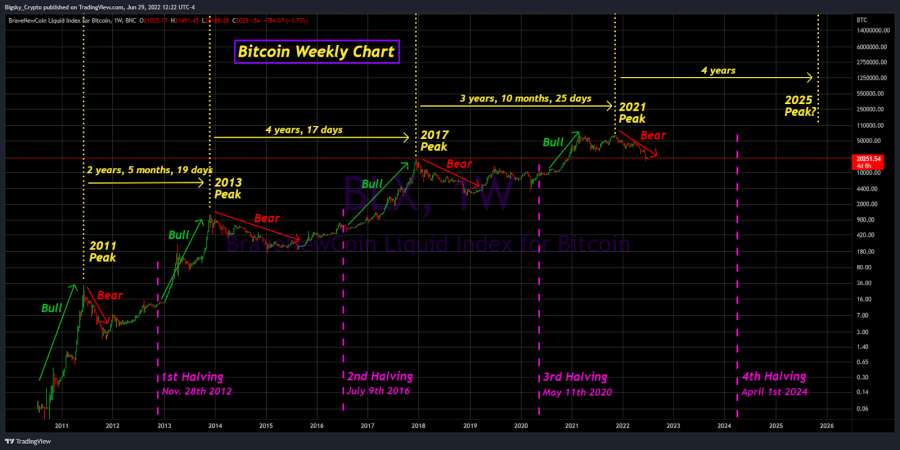 Looking at the Bitcoin weekly chart above, you can see the bull and bear market cycles. The Bitcoin halving events are also marked on the chart; you can see where they fall within each market cycle. Typically, the next bull market will begin after the halving. 
If that trend continues, the next bull market will not begin until sometime after the next halving in April 2024. This means there is plenty of time to dollar cost average into positions for the next bull market. Using a dollar cost averaging strategy for most people is an intelligent way to invest.
Will BNB Ever Reach All-Time Highs? 
The all-time high for BNB was set on May 10, 2021, at $691.80 (Binance), giving BNB a market capitalization of more than $103 billion. The big question is, will BNB ever reach or exceed that all-time high? 
                                                              BNB Daily Chart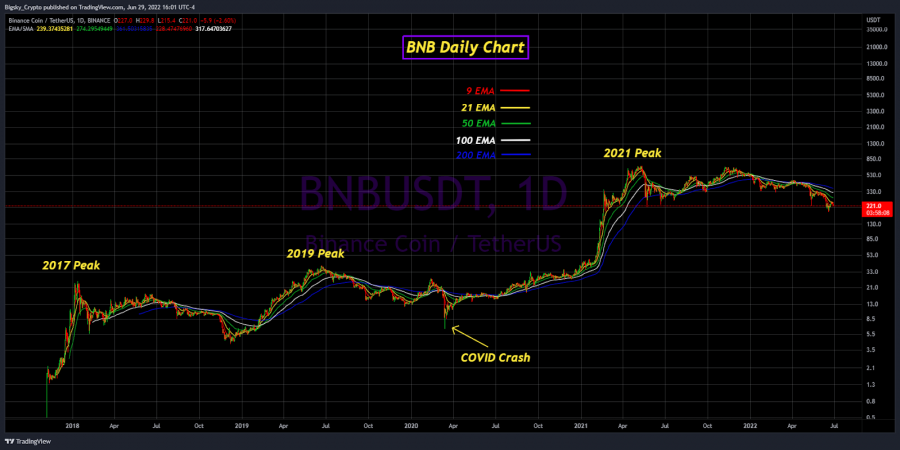 Currently, BNB is down about 68% from its all-time high, but if Bitcoin declines further, BNB will also. Nothing fundamentally has changed with the Binance ecosystem or BNB. The price decline BNB is experiencing is primarily a result of the crypto bear market and the risk-off environment. 
There are no guarantees, but one of the safest bets in crypto has to be that BNB will not only reach its all-time high but surpass it at some point. Of course, much of this will also depend on what Bitcoin does during the next bull market. If BNB does follow Bitcoin to its all-time high, now might be the best time to buy Binance Coin.
Is Binance Coin (BNB) a Good Long-Term Investment?
Contrary to many of the thousands of cryptocurrencies today, BNB has real utility. It is the native token of the Binance ecosystem, including the Binance centralized exchange (CEX), the world's largest crypto exchange by volume. 
The Binance ecosystem also includes the Binance Smart Chain (BSC), and BNB is the native token of that chain as well. The Binance Smart Chain (BSC) has smart contract functionality and is focused on facilitating fast decentralized trading. BSC is home to the Binance decentralized exchange (DEX) powered by the BNB token.
Another positive for BNB is the burn program that Binance launched in late 2017, intending to burn 50% of BNB's total supply. This action will continue to increase the scarcity of BNB putting upward pressure on the price. All these factors should make BNB an excellent long-term investment. Now might be a fantastic time to buy Binance Coin because it is at a heavy discount due to the crypto market crash.
How to Buy Binance Coin (BNB)
You can purchase BNB from the following exchanges.
Centralized Exchanges
Binance – Centralized exchange
Binance.US – Exchange for US investors
FTX – Buy crypto and NFTs
Gate.io – Over 1,400 cryptocurrencies supported
Kucoin – Crypto spot and futures exchange
Decentralized Exchanges
Binance DEX – On BSC
PancakeSwap – Native to BSC
SushiSwap – Connect with MetaMask or Binance wallet
Binance.US is the only CEX where U.S. investors can purchase BNB. U.S. investors can also buy BNB from the listed DEXs. But investors need BNB in their wallets first before transacting on DEXs.
1 Minute Review
Binance is the largest cryptocurrency exchange in the world by trading volume. In fact, it tops the ranks of cryptocurrency exchanges maintained by CoinMarketCap, which are ranked based on 24-hour trading volumes, exchange score and average liquidity. Binance triumphs over exchanges like Huobi Global and Coinbase, which follow closely in 2nd and 3rd places, respectively. 
Previously based in Malta, the Binance Group is now based in the Cayman Islands. Binance has several locations and entities registered across the globe. In the United States, it's known as Binance.US. The exchange in the U.S. uses the same cutting-edge technology and trading services as its global counterparts with the difference being U.S. regulatory compliance. It is operated by San Francisco-based BAM Trading Services.
Binance.US ranks 9th on CoinMarketCap's list of the top 10 exchanges based on metrics like 24-hour trading volume, exchange score and average liquidity. Binance could be a good platform for you to invest in cryptocurrencies if you are a U.S.-based trader who trades frequently, doesn't intend to pay high trading fees and needs access to a large number of cryptocurrencies. 
Best For
US Citizens
Frequent day traders
Users interested in Binance Smart Chain (BSC) and Binance Coin (BNB)
Pros
Low trading fees
Easy-to-use platform

…


Read More:Is Now a Good Time to Buy Binance Coin (BNB)? • Benzinga 2022