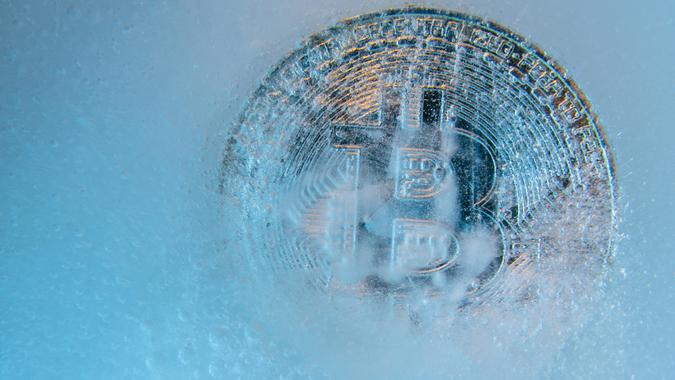 Ja'Crispy / Getty Images
In the past several years, most people have undoubtedly heard of cryptocurrency even if they haven't dipped their toes in the investment waters. Now that the prices of Bitcoin, Ethereum and other cryptocurrencies are plummeting, is it time to invest? Will crypto survive the crash and emerge stronger?
Why Is Cryptocurrency Crashing?
Record-high inflation, fear, rising interest rates and a loss of confidence in crypto investments are all contributing to the crypto crash. Analysts say most of the factors are "macro," which means they relate to the economy as a whole rather than any flaws in the crypto market.
"We have extreme fear in the markets right now. The market has priced in several rate hikes plus they've started to price in a severe recession…we're in complete risk off mode for all assets, just in the same way we were in risk-on mode," Bill Barhydt, chief executive at crypto financial service provider Abra, told MarketWatch.com in an interview recently.
However, some factors are exclusive to crypto investments, experts say. Crypto lending platform Celsius Networks LLC recently paused all withdrawals, swaps and transfers between accounts "due to extreme market conditions." This created more fear amongst investors specific to crypto.
The New York Times recently reported on 40-year-old investor Jacob Willette, a delivery driver who put his entire life savings in an account with Celsius. When the platform froze more than $8 billion in assets, according to the Times, Willette received no reassurance that his money was safe.
Coinbase Took a Loss in Q1 2022
The popular trading and tracking platform, Coinbase, took a $430 million loss in the first quarter of 2022 and the company's stock dropped 81%. The company announced plans to lay off one-fifth of its staff, CBSNews.com reported. However, Coinbase has survived other crypto winters and many analysts aren't concerned about its future. "The winter would have to get progressively worse for Coinbase to be in any real danger," John Todaro, crypto-asset researcher for Needham & Co., told CBSNews.com.
The crypto crash isn't exclusive to just crypto. The Dow Jones Industrial Average, a key stock index, entered a bear market in mid-June 2022. In the first week of July, the S&P 500 officially entered a bear market. The crypto crash is being felt across the industry, beyond the losses investors are experiencing.
Is the Crypto Market Crashing?
Before examining the future of crypto investments, here's more about what caused the latest crash and exactly how bad it is.
In early July 2022, Bitcoin sat at 68.33% below its all-time high of $68,789.63, according to Coinbase.com figures. A bear market refers to investments reaching 20% below their peak for an extended period. So Bitcoin is definitely in a bear market. Alt-coins, including Ethereum and other cryptocurrencies, tend to follow the path of Bitcoin, so we can look at Bitcoin as an indicator of the overall market.
Bitcoin rose by more than 15% in the first week of July 2022, and crypto bulls are holding tight. Experts believe prices may remain stable around the $20,000 mark for at least six months, according to CoinTelegraph.com.
Another bearish run, they say, could put Bitcoin between $14,000 and $16,000.
Ethereum, likewise, rose nearly 5% between July 6 and July 7, but has not recovered from losses of the year and remains well below its all-time high of $4,800 in late 2019.
Will Crypto Survive a Crash?
While the stock market has a lengthy history of ups and downs, with stock exchanges first starting up in the U.S. in the late 1790s, according to the Library of Congress, crypto does not have such a past to draw from. Knowing that the stock market has experienced multiple bear and bull phases over the centuries gives investors peace of mind.
However, it's heartening to know that cryptocurrency has survived multiple crashes in its short history. GOBankingRates.com documented at least seven substantial Bitcoin crashes — and recoveries — dating back to 2011 when Bitcoin lost 99% of its value. The phrase "crypto winter" stemmed from these crashes.
As TheGuardian.com points out, "winter comes before spring," and investors may just have to sit this one out and "wait for the market to thaw," so to speak. However, this most recent crash, coupled with an impending recession, could make many investors hesitant to put their money into crypto.
Meanwhile, several Wall Street investors are shorting.
It could be worth hanging on, however. Beincrypto.com wrote, "In history, 100% of the people who have bought and waited 4 years or more have seen their investment grow."
Final Take
Crypto remains a highly speculative investment. If you have a high tolerance for risk, it may be worth it to diversify your portfolio with a percentage of crypto right now. But you'll want to look at your overall budget, your emergency savings reserves, and any high-interest revolving debt you might have, first.
With rising interest rates and a recession, paying down debt and setting money aside for emergencies, which could include job loss, should be a priority.
If you feel secure and have extra money to invest, you can purchase Bitcoin or your choice of alt-coin on any of the top crypto exchanges, such as Coinbase, Kraken or Gemini.  
Crypto Crash FAQ
Here are answers to some frequently asked questions about the current crypto crash.
Is the crypto market crashing?

Bitcoin is down nearly 70% from its all-time high. By accepted metrics, a bear market occurs when assets fall at least 20% from their record high, which means the crypto market is crashing right now.

Why is cryptocurrency crashing?

Several factors are contributing to the crypto crash, including macro-economic issues like rising interest rates, falling stock prices, inflation and a recession. At the same time, crypto's relatively short history in the world of finance is making some investors feel insecure about cryptocurrency.

Will crypto survive a crash?

Crypto has suffered crypto winter before. In general, over time, financial markets tend to rise. Looking at historical precedents, cryptocurrency and its infrastructure are not likely to disappear.
Our in-house research team and on-site financial experts work together to create content that's accurate, impartial, and up to date. We fact-check every single statistic, quote and fact using trusted primary resources to make sure the information we provide is correct. You can learn more about GOBankingRates' processes and standards in our editorial policy.


Read More:Why Is Crypto Crashing? Here's What You Should Know Right Now