Bitcoin was higher by 8% but is still not charging above $20k. Binance Coin rallied on zero fees. QNT and CVX up 40% but still far from highs.
BTC
The Bitcoin price found support to move above $20,000 this week but couldn't stamp its authority above there.
BTC was still up almost 8% on the week and that gave the coin some hope for a sustained rally.
The move higher in Bitcoin was boosted by news that the top cryptocurrency exchange, Binance, was introducing zero trading fees on Friday last week.
Binance CEO Changpeng Zhao said users were trying to gain VIP tiers via high trading volumes. 
We will exclude BTC trading from VIP calculations. Remove all incentives to wash trade. Announcement with details coming shortly. 
A wash trade refers to the phenomenon of a trader who buys and sells an asset for the purpose of inflating its price.
With the recent bear market, exchanges like Binance have been seeking ways of attracting and retaining users on the platform. The price of BTC has struggled this year as the Federal Reserve has ramped up its rate hike policy and that has spurred a US dollar rally above the 100 level in the DXY index of global currencies.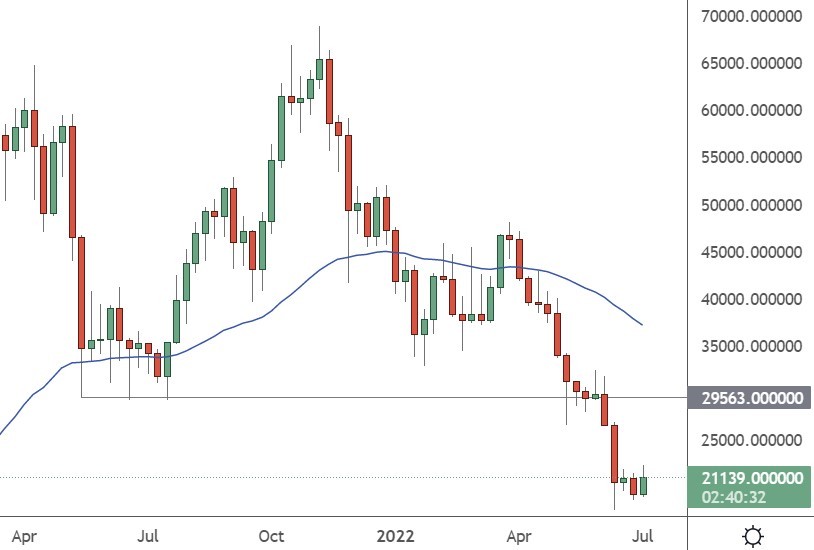 Bitcoin was trading around the $21,000 level after a Sunday price drop of 2.6% with key resistance being at the $30,000 level.
BNB
Binance Coin also rallied 7% as the market reacted to the new fee structure.
The price of BNB was weighed down recently by news that the Securities and Exchange Commission was launching an investigation into the exchange's coin.
Binance launched the BNB token with an ICO in July 2017 and that was done across various platforms. A Bloomberg report said that at least one resident of the US participated in the ICO, which led to SEC scrutiny. In 2020, Changpeng Zhao announced changes to the Binance Coin white paper he said would ensure that BNB would not be classified as a security.
Mr. Zhao was also commenting on the regulatory picture this week in light of the recent crypto market troubles. 
There should be clearer regulatory guidelines on reserves for different types of businesses in the crypto space. More regulatory guidelines in this area would definitely help. 
"We're seeing that a number of firms are insolvent, and a number of projects have gone under," he said. "But it's a small number in the grand scheme of things."
He also commented on the ability of Binance to help struggling firms, saying, "We do look at stressed assets, companies that are insolvent, and we'd like to help them either with loans, minority investments, or even majority acquisitions. All of those things are on the table."  
He said Binance has done "quite a few" deals and is looking at 50-100 deals.
"Everybody knows we have the largest cash reserves in the industry," he said. "They are talking to us."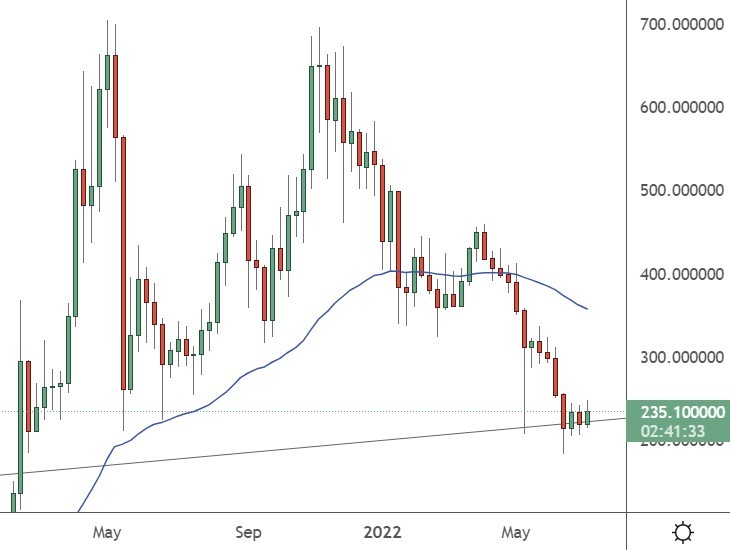 The price of BNB was trading at $235 and has support at that level with resistance ahead at $350.
CVX
Convex Finance was one of the big gainers this week with a jump of over 40%.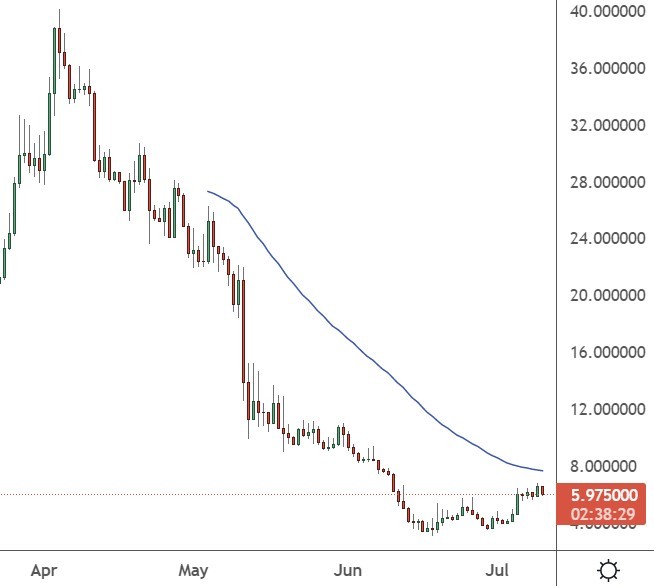 The DeFi project, which aims to optimize yields from the Curve Finance exchange, rallied after more than 27.4 million tokens were unlocked at the end of June.
Despite some fears that a big block of CVX tokens joining the market would depress prices, the lack of selling gave traders confidence to buy. With the unlock date passing without drama, users had more confidence to deposit their tokens on the Convex protocol. 
According to Dune Analytics data, around 42% of all CVX tokens from the recent unlock have been relocked in the protocol so far. The remaining tokens have been withdrawn or are waiting for their owners to decide whether to relock them. Investors are happy to hold onto CVX at its current depressed levels in hopes of a rebound.
The total value locked (TVL) on the Convex Finance chain has dropped from $20bn in late 2021 to only $3.4bn now. A recent uptick from the lows at $2.94 will give investors hope that the bottom is in place.
The price of CVX rallied to trade around the $6.00 level but is a long way from the $40.00 highs.
QNT
Quant Finance was another coin with a rally of over 40% this week.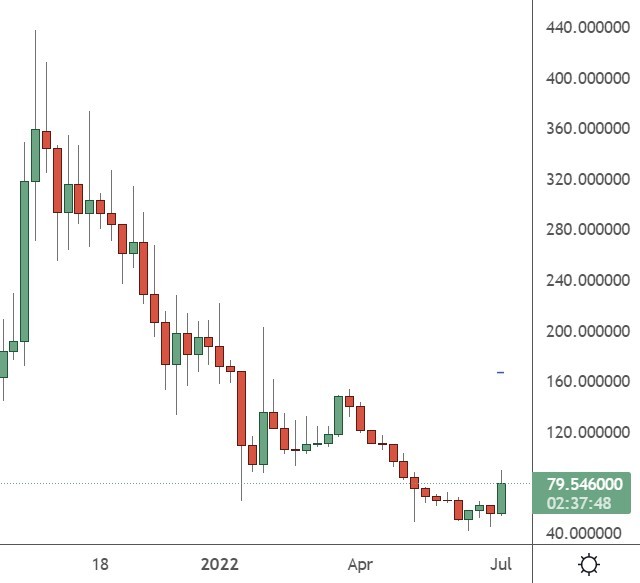 Quant's overledger platform is aimed at banks and financial institutions. A recent update was the release of a beta phase of Overledger Tokenise. Tokenise is Quant's premium API for creating and deploying the next generation of tokens and digital assets onto the Ethereum, Polygon, and XDC mainnets.
The Quant system is said to be the first OS to be built for blockchains, with the goal to connect blockchains and networks on a global scale, without affecting their interoperability.
Quant also provides blockchain interoperability solutions to LACChain, which is a blockchain initiative in Latin America and the Caribbean that aims to improve financial inclusion, sustainability, and efficiencies through digitization.  
 Quant also plans to launch their own Software-As-A-Service (SaaS) for enterprise and middleware applications. These will provide solutions to different industries with a focus on sectors such as healthcare, supply chain, government, and financial services. 
The price of QNT now trades at $80 after a steep decline from the highs at $400.
Disclaimer: information contained herein is provided without considering your personal circumstances, therefore should not be construed as financial advice, investment recommendation or an offer of, or solicitation for, any transactions in cryptocurrencies.




Read More:Bitcoin Struggles to Push on Through $20k Levels, BNB, CVX, QNT, Jul. 11