Ethereum price has resumed its downward trend as the fear and greed index plunges back to the extreme fear zone. The ETH/USD pair crashed to 1,067, which is lower than the weekend high of 1,276. Its market cap has dropped to over $127 billion. At its peak, Ethereum had a market cap of over $600 billion.
Key industries are struggling
Ethereum is an important part of the decentralized industry. Its smart contract technology has been used to build some of the most important components of this industry.
For example, Ethereum has been used to build the biggest decentralized finance (DeFi) products in the world. Some of the most popular DeFi products in the ecosystem are Compound, Uniswap, and Maker among others.
Ethereum is also the dominant player in the non-fungible token (NFT) industries. Some of the top NFT projects that have been built using Ethereum are Bored Ape Yacht Club (BAYC), OpenSea, and Azuki among others.
Learn more about how to buy Ethereum.
Further, Ethereum has also been used to build the most popular gamify tokens in the industry. Some of the top gamify platforms bult using Ethereum are Decentraland and Sandbox.
While Ethereum has a strong market share, the value of its key assets has dropped sharply in the past few months. For example, the total locked value (TVL) of all DeFi protocols in Ethereum has crashed from over $150 billion to less than $50 billion.
Similarly, the total volume of non-fungible tokens (NFT) traded has been in a major downward trend. According to CryptoSlam, the volume of most NFTs has crashed. For example, the volume of BAYC has dropped by 27% in the past 30 days. Similarly, Otherdeed, Mutant Ape Yacht Club, and CloneX has fallen by over 30% in the past 30 days.
The next major catalysts for Ethereum will be the upcoming merge event and the interest rate decision by the Federal Reserve.
Ethereum price prediction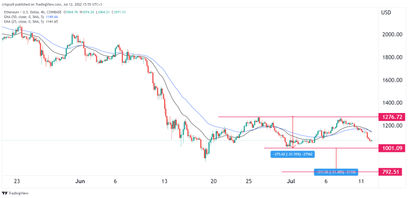 The four-hour chart shows that Ethereum rose to a high of $1,276 last week. This was an important resistance point since it was the highest level on June 26th. The chart shows that the coin has formed what looks like a double-top pattern.
The coin's 25-day and 50-day moving averages have made a bearish crossover pattern while the Relative Strength Index (RSI) has pointed downwards. Therefore, the token will likely keep falling as bears target the key support at $800. This price is estimated by calculating the distance between the chin and the double-top.


Read More:Ethereum Price Prediction: ETH to Drop to $800 Ahead of Merge