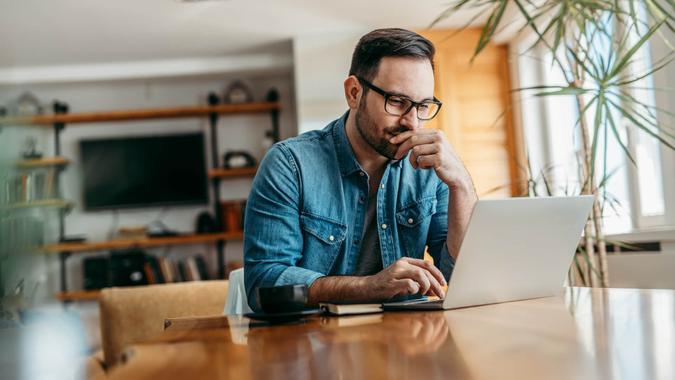 nortonrsx / Getty Images/iStockphoto
Cryptocurrencies have entered everyday life and have been on everyone's conscience in the past few years, thanks to their rapid adoption, increased institutional (and celebrity) backing and constant attention-grabbing headlines. 
But some are more at the forefront of the news cycle. Indeed, while Bitcoin and Ether have become mainstream cryptocurrencies and mainstream concepts — closely followed by several altcoins, such as Dogecoin and Shiba Inu — there are still some lesser-known cryptos that might also be worth a look.
ROSE, for example, is one of them. While both Bitcoin and Ether are on their own networks — Bitcoin and Ethereum — ROSE is on the Oasis Network, which Bybit Learn notes is one of the projects to be dubbed an "Ethereum killer."
What Is the Oasis Network? 
The Oasis Blockchain Platform is a layer one proof-of-stake smart contract platform with the goals of offering extensibility and privacy, according to its white paper.
The Oasis Foundation says it's different as it enables fast transaction speeds and the creation of private smart contracts.
Oasis says it is devised for the next generation of blockchain and is "the first privacy-enabled blockchain platform built to scale for open finance, a responsible data economy and Web3."
"Combined with its high throughput and secure architecture, the Oasis Network will power private, scalable DeFi, revolutionizing open finance and expanding it beyond traders and early adopters to a mass market," according to the Oasis Foundation's website. "Its unique privacy features will not only redefine DeFi and Web3 but also create a new type of digital asset called tokenized data. This will enable users to take control of the data they generate and earn rewards for staking it with applications, creating the first-ever responsible data economy."
On the technology aspect, the Oasis Network has two separate layers for consensus and execution: the Consensus Layer and the ParaTime Layer, which the Oasis Foundation says enables it to provide increased versatility and better scalability.
What Is ROSE?
The ROSE token is native to the Oasis Network, and its specificities include that it has a limited supply — indeed, it is capped at 10 billion tokens. The token can be used for staking and delegating and for transaction fees, according to the Oasis Foundation.
As of July 12, there are 5.03 billion ROSE tokens in circulation — 50% of its total capped supply. The token ranks No. 109 in terms of market cap, according to CoinMarketCap, and represents 0.03% in terms of crypto market dominance.
In addition, the Oasis Network has set aside approximately 2.3 billion tokens, which will be automatically distributed on-chain as staking rewards for securing the network over time.
ROSE is at $0.047 as of July 12, down 29.2% in the past year and down 7.8% in the past seven days, according to CoinGecko.
Is ROSE a Good Investment?
While it's difficult to predict crypto prices due to their inherent volatility and the overall market cycles, it's worth noting a few factors. First, at $0.047, it has a lot of room to grow. Second, while still in its nascent stage, the Oasis Foundation is developing several other features, which might bring more attention to the crypto, boosting its price.  Another feature is that just like Bitcoin, it is capped, hence creating a scarcity aspect.
On the other hand, just like the crypto market overall in the past few months, ROSE has declined substantially from its all-time high of $0.597 on Jan. 15 of this year — a whopping 92% decline, according to CoinGecko. Its all-time low was $0.032, which was on Nov. 26, 2020.
The Oasis Foundation notes that its team comprises top talent hailing from companies including Amazon, Apple, Goldman Sachs and Google, as well as from institutions including Carnegie Mellon, Harvard, Stanford and the University of California, Berkeley. The foundation also notes that all of its core engineering team members have received a Ph.D.-level education.
All in all, the combination of the regular updates Oasis provides, the backing it has received from well-known institutional investors, and a strong team seems to "bode well for the future of ROSE tokens as an investment," according to an analysis by Bybit Learn.
Does ROSE Have a Future?
While it's difficult to predict which crypto projects will make it in the long run, ROSE has several attributes in its favor. As said previously, Oasis has big-name backers and is involved in several new projects around DeFi and Web3 — including non-fungible tokens and the metaverse — which might help boost the price.
In January and following Binance Labs' contribution, the Oasis Ecosystem Fund grew to $200 million in size.
The fund's goal is to back the next generation of Oasis applications, including in the spaces of the metaverse, DeFi, privacy applications, NFTs, data tokenization and data governance. In addition, as the Oasis Network deems itself scalable, it makes it well suited for DeFi applications "due to its instant finality, 99% lower gas fees versus Ethereum, high throughput" and other factors, according to the Oasis Foundation.  
In May, the Oasis Foundation announced that the fund had reached $235 million in total. The Oasis Ecosystem Fund's partners include Dragonfly Capital, Electric Capital and Pantera Capital, among others.
If you want to invest in ROSE, just as is the case with any other crypto, be aware that they are all highly volatile. In addition, it is highly recommended to always do your own research to understand whether a project is valid, who is behind it and who is backing it. Finally, make sure you can stomach wild rides as crypto prices tend to go up and down wildly.
Data is accurate as of July 12, 2022, and is subject to change.
Our in-house research team and on-site financial experts work together to create content that's accurate, impartial, and up to date. We fact-check every single statistic, quote and fact using trusted primary resources to make sure the information we provide is correct. You can learn more about GOBankingRates' processes and standards in our editorial policy.


Read More:Oasis Network (ROSE): Is This Crypto a Good Investment?