The XRP price crashed to the lowest level since June 19th this year after the strong American consumer inflation data. Ripple is trading at $0.3050, which is about 15% below the high the highest level this week. Its market cap has dropped to about $15 billion.
US inflation surging
Consumer prices in the United States are surging, pushing many analysts to anticipate a more hawkish Federal Reserve.
Data published by the Bureau of Labor Statistics (BLS) revealed that the country's inflation surged to a multi-decade high of 9.1%. This increase was much higher than the median estimate of 8.8%. It was also the highest it has been in decades.
Excluding the volatile food and energy products, inflation dropped from 6.0% to 5.9% in June. This decline was equally bigger than the median estimate of 5.7%.
Learn more about how to buy Ripple.
Therefore, investors believe that the Federal Reserve will get more aggressive as it battles inflation. Before the release, analysts were expecting the bank to hike interest rates by 75 basis points in its meeting later this month. Now, many analysts expect a relatively bigger 100 basis point hike.
Historically, risky assets like stocks and cryptocurrencies underperform in a period when the Fed is extremely hawkish. Indeed, the Dow Jones and Nasdaq 100 futures dropped by more than 2% after the inflation data.
The same happened in the cryptocurrency industry. In addition to the XRP price, Bitcoin tumbled to about $19,000 while the total market cap of all cryptocurrencies dropped to $855 billion.
Meanwhile, investors are also focusing on the ongoing SEC vs Ripple lawsuit. Ripple Labs has had some positive news. For example, this week, the judge overseeing the case denied SEC's motion to keep Hinman's documents secret.
XRP price prediction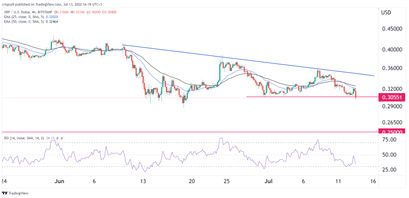 The four-hour chart shows that the Ripple price crashed hard on Wednesday after the strong American inflation data. As it dropped, it managed to move below the important support level at $0.3055, which was the lowest level this month.
Ripple also dropped below the 25-day and 50-day moving averages and the descending trendline shown in blue. Therefore, it seems like bears have prevailed and that the coin will continue falling as investors wait for a more aggressive Fed. If this happens, the next key level to watch wil be at $0.25, which is about 18% below the current level.


Read More:XRP Price Prediction: Ripple Bears Prevail After Strong Inflation Data