The growth in popularity of Gala Crypto has not been translated into the markets. Today, the price of Gala continues to fall, a trend that has persisted throughout the month and has seen it drop by 13 per cent. 
Gala Games has made significant milestones as one of the pioneers of blockchain-based play-to-earn gaming. The platform is powered by the Ethereum-based token Gala, which is used as a medium of exchange on the platform. The token can also be used to purchase in-game items and upgrades and also doubles as a governance token.
Late last month, the platform partnered with Epic Games, which saw some of its games, including Grit, a Web3 wild-west-themed game, added to Epic Games. Although the partnership did not have a massive impact in the markets, it paved the way for future collaborations that will see Gala Games become a household name in the gaming industry.
Gala Crypto Price Prediction
Yesterday's trading session broke a three-day bearish streak when it rose by 3 per cent. However, today's session looks to have resumed the downward move, with the current drop of 4 per cent wiping out yesterday's gains. 
The current bearish trend also looks to have momentum and is likely to continue throughout the session. In the next few trading sessions, there is a high likelihood that we will see the prices drop further, possibly trading below the $0.040 price level.
If the trend has enough momentum, there is a high likelihood that the next price level may be the $0.031 support level. Therefore, in the next few trading sessions, holders should be careful of the downward volatility and momentum, which is likely to see Gala continue to lose price in the markets.
However, my analysis will be invalidated should the price reverse and trade above the $0.050 psychological level. At that point, it will be evident that more investors are coming into the markets, causing the prices to rise.
Gala Daily Chart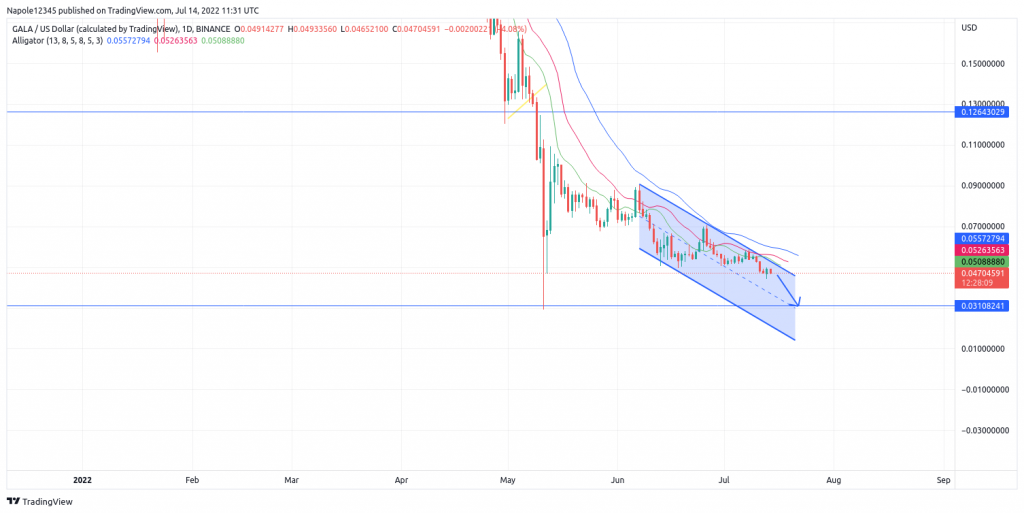 Read More:Gala Crypto Price Prediction: What Next After Gala Resumes Bear Trend?