Did you know that airBaltic, the flag carrier of Latvia, started accepting Bitcoin (BTC) as a method of payment in 2014? If Latvia is too far and 2014 is too outdated, oxio, a prominent Canadian internet provider, announced Bitcoin acceptance in March 2022.
Across the globe, cryptocurrencies, which use decentralized ledger tech for quick transfers, are not only gaining traction as tradable assets but also acceptance. Today, Bitcoin is a recognized mode of payment in El Salvador and the Central African Republic. How does SpendTheBits, a Bitcoin payment app, fit into this scheme of things? Can the app's merchant portal further the development of a comprehensive crypto ecosystem in Canada?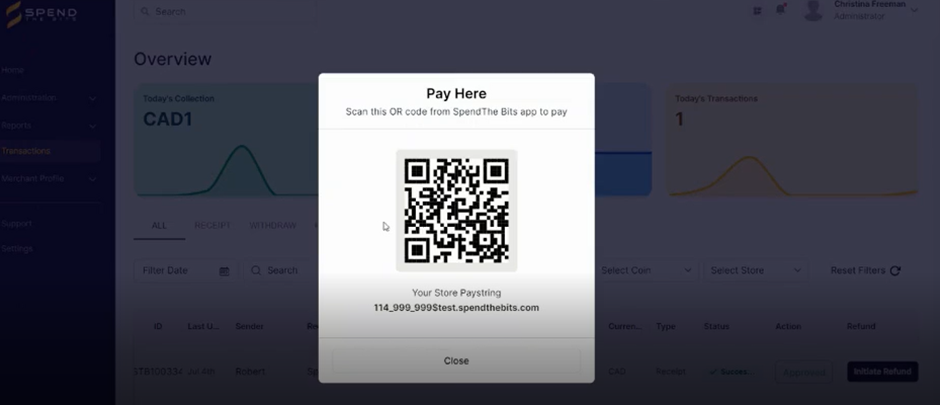 Source: SpendTheBits Merchant Portal Screenshot
SpendTheBits' merchant portal
First, the basics. The merchant portal by SpendTheBits is an extension of its widely embraced Bitcoin wallet and the payment app. The app is available on iOS and Android, and the portal for merchants adds more value to it.
Any merchant, regardless of the size of the business, can use the SpendTheBits portal to become a participant in the fast-growing crypto payments space. The merchant portal has a clean dashboard to provide an easily comprehensible overview of transactions. It is both fast and secure, thanks to SpendTheBits' exceptional emphasis on the security of funds, which was a key factor in picking the XRP Ledger as the network is powering its app.
The merchant portal displays the account's balance in Canadian dollars. It can help sort transactions on the basis of time periods, including weekly and monthly data. New system users can be assigned, allowing the merchant to delegate responsibilities in accordance with the job role of any employee.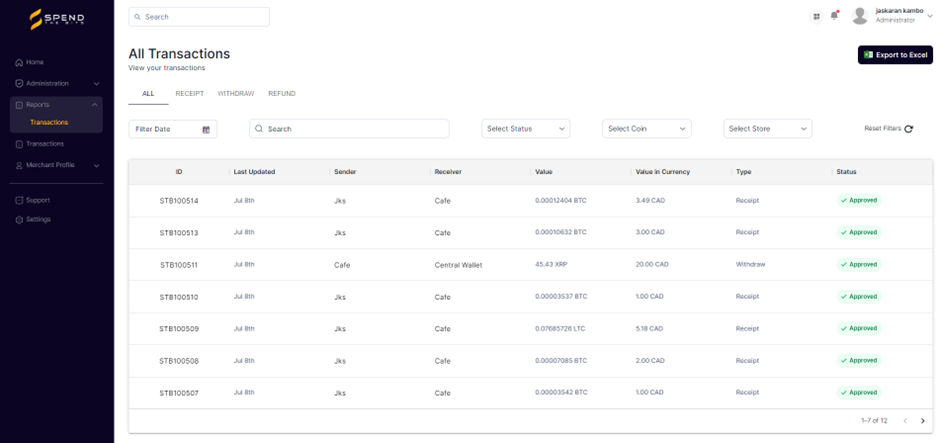 Source: SpendTheBits Merchant Portal Screenshot
Adding a business is easy. The merchant can generate the QR code for quick display at any convenient place. The code can be scanned by a customer using the SpendTheBits app. Gathering information on the transaction page is seamless. It allows merchants to track their daily activities and the transaction history can be transported to excel for reporting.
Why SpendTheBits' merchant portal?
Cryptocurrencies have garnered a fair share of enthusiasts in Canada and the neighboring US. According to reports, many of these users of cryptos want to use their holdings to purchase goods and services. Tesla's move to allow the use of Dogecoin for the purchase of its merchandise and oxio's BTC announcement are stepping in that direction.
SpendTheBits portal is designed to keep in view the financial interests of merchants in Canada. BTC is being granted approval as a mode of payment by large-scale businesses. The shift toward digital currencies cannot be without onboarding businesses of all sizes. SpendTheBits is specifically designed for small- and medium-scale merchants, with a view to making BTC's adoption easy, secure, and inexpensive.
About SpendTheBits
It is a Canada-based cryptocurrency payment app, with secure XRP Ledger underpinnings. Many banking institutions are utilizing the services of the XRP network. Transactions on SpendTheBits are quick, thanks to approval on Bitcoin's blockchain within a few seconds.
Risk Disclosure: Trading in cryptocurrencies involves high risks including the risk of losing some, or all, of your investment amount, and may not be suitable for all investors. Prices of cryptocurrencies are extremely volatile and may be affected by external factors such as financial, regulatory, or political events. The laws that apply to crypto products (and how a particular crypto product is regulated) may change. Before deciding to trade in financial instrument or cryptocurrencies you should be fully informed of the risks and costs associated with trading in the financial markets, carefully consider your investment objectives, level of experience, and risk appetite, and seek professional advice where needed. Kalkine Media cannot and does not represent or guarantee that any of the information/data available here is accurate, reliable, current, complete or appropriate for your needs. Kalkine Media will not accept liability for any loss or damage as a result of your trading or your reliance on the information shared on this website.




Read More:An overview of SpendTheBits' decentralized merchant solution for BTC & Crypto payments