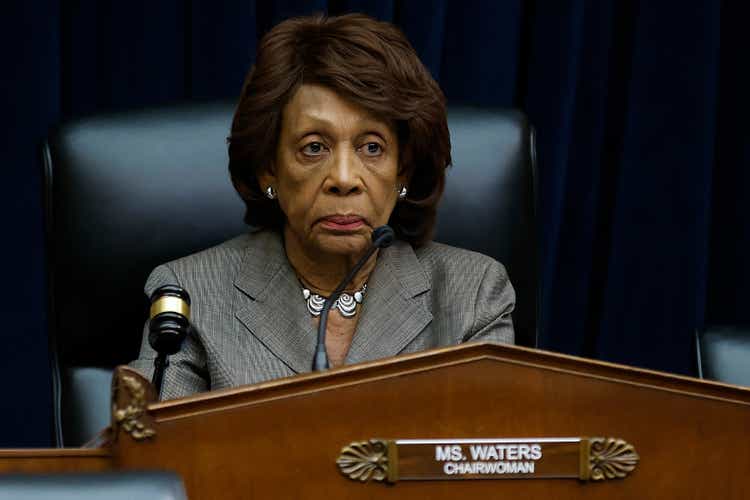 House Financial Services Committee Chairwoman Maxine Waters (D., Calif.) and Patrick McHenry (R., N.C.) were said to near a bipartisan deal to impose stricter regulations on stablecoins in a bid to mitigate financial stability risks, The Wall Street Journal reported Wednesday, citing three people with knowledge on the matter.
Stablecoins are designed to be pegged to the value of a "stable" asset such as fiat currencies.
The legislation could be voted on by Waters' panel by next week if the deal is agreed upon, but it may not even come to fruition as Sherrod Brown (D., OH), who chairs the chamber's banking committee, hasn't taken part in the legislation's negotiations, the people said, as reported by the WSJ.
Waters and Henry's bill would put the Federal Reserve at the center of regulating stablecoin issuers like Circle, the issuer of Tether (USDT-USD). The proposed restrictions would prohibit nonfinancial firms from issuing stablecoins and hence being regulated similarly to banks, the WSJ noted. The Biden administration last year highlighted the desire for tight bank-like regulations.
Envisions for tougher oversight on stablecoins followed the collapse of algorithmic stablecoin TerraUST (UST-USD), which de-pegged from the U.S. dollar in May resulting in financial contagion effects setting in across the broader digital asset space.
At the end of June, CoinDesk reported that White House official said stablecoin legislation may become law by year-end.
Dear readers: We recognize that politics often intersects with the financial news of the day, so we invite you to click here to click here to join the separate political discussion.


Read More:House policymakers closes in on bipartisan deal to regulate stablecoins