Decided Ethereum is a good investment right now? You can buy some at some of the best exchanges like Gemini, Robinhood and WeBull.
Ethereum is the second-largest cryptocurrency in the world and for good reason. It was the first general-purpose blockchain, launched in 2015. Think of a general-purpose blockchain as a decentralized computer running on hardware all over the world. It enables all the most exciting fields in Web3. It is so popular that it seems like every single crypto influencer has given a lofty Ethereum price prediction.
As the general-purpose network with more users and developers working on it than any other, Ethereum is a vital part of the cryptocurrency ecosystem. Without Ethereum, the blossoming sectors of decentralized finance (DeFi) and non-fungible tokens (NFTs) might cease to exist. A few competitors try to grab users' attention, but none hold a candle to the original yet. 
Ethereum may even take Bitcoin's place as the largest crypto in the future because it has many more use cases. If the most important thing in the future of cryptocurrencies is maximizing utility, which seems likely, Ethereum is one of the best possible bets.
Is Now a Good Time to Buy Ethereum?
Now might be a fantastic time to buy Ethereum if you are a long-term investor confident in the future of Web3. Ethereum is at the forefront of almost everything in the crypto world. All the most exciting frontiers like DeFi and NFTs are almost exclusive to Ethereum. These frontiers are being explored and built out extremely quickly, and the rate of growth will likely only increase from here. People don't know if this is the bottom, however, it seems like almost every crypto analyst has given a bullish Ethereum price prediction. ETH could still fall more before it starts to increase again (if it does at all). 
How Long Will the Crypto Bear Market Last?
It is impossible to accurately predict when a bear market will end in a traditional financial market. Predicting the end of a crypto recession is even harder. The current crypto bear market is a little more predictable than normal, however. One of the biggest reasons why the market crashed is the macroeconomic situation. Rampant inflation and the fear of imminent interest rate hikes have the global markets in the gutter. The war in Ukraine has only made the situation worse. The crypto market is still heavily correlated with the stock market and has suffered significantly in turn. Until these macroeconomic issues are resolved, it would be silly to give a bullish Ethereum price prediction.
Unfortunately, it doesn't seem like there is an end in sight to either of these issues. Interest rates will likely have to be raised to deal with the inflation, and Russia doesn't seem to be backing down in Ukraine. Until at least one of these problems is resolved, the crypto market will probably struggle to escape this bear market. However, it's not time to despair just yet. 
WalletInvestor's cutting-edge artificial intelligence (AI)-powered market prediction service is still extremely bullish on Ethereum and the market as a whole. It thinks that ETH will be trading at $2,500 by July 2023. This exact prediction will likely be off because it is using technical analysis of past performance to extrapolate future prices. This method can't be 100% accurate and could even be entirely wrong. It's only the AI's best guess using the historical performance of the cryptocurrency. 
Timing the market is famously impossible because it is so hard to predict the price of an asset (especially in crypto) in the short- or even medium term. Luckily, a fantastic strategy called dollar-cost averaging is used by tons of smart investors to help manage a bear market. Instead of making a few big investments when they think the asset has reached a bottom, investors use dollar cost averaging to make many smaller regular purchases. This process spreads out their buys at different price points to lower their cost basis and diminish the effect of large price swings. In the end, if the asset eventually keeps moving up, the investor using dollar cost averaging wins out essentially every time. 
Will Ethereum Ever Reach All-Time Highs? 
Will Ethereum ever reach all-time highs? People ask this question each time Ethereum crashes by more than 20%. This is much easier than giving an accurate Ethereum price prediction. The answer has historically always been yes. However, the answer isn't yes with absolute confidence just yet. Its current all-time high, about $4,900, gave Ethereum a massive market capitalization of roughly $560 billion, but past success doesn't always translate to future success. It also may take years for it to reach all-time highs again.
Ethereum has proven itself to be an amazing foundation that inspires innovation and rapid growth. Competitor blockchains have similar general-purpose functionality, but none has the user base or bring in even half of the developers Ethereum attracts.
You could argue that another general-purpose blockchain will win out in the end, but little evidence supports this theory. The competitor would likely need to start its coup soon. The problems that Ethereum suffers from the most — high fees and slow transactions — will likely evaporate in the next few years after the highly anticipated ETH Merge. 
The Merge has been in the works for years. As part of the upgrade, the network will switch to a proof-of-stake (PoS) consensus mechanism from proof of work. PoS requires validators to stake ETH tokens instead of running expensive hardware that uses absurd amounts of energy. This change will decrease the energy consumption of Ethereum — estimated to be about as high as the consumption of the entire country of Romania — by 99.95%. After the change, Ethereum will no longer have a significant effect on climate change (unlike Bitcoin).
The Merge will also eventually implement a complex blockchain technology called sharding that should significantly diminish fees and speed up transactions. This transformation won't go into effect along with the move to PoS, however. It is currently planned to launch sometime in 2023. If the global markets have recovered by then, ETH has a fantastic chance of pumping and maybe reaching all-time highs after the Merge goes live.
ETH Market Position
At time of writing, ETH has a market capitalization of close to $200 billion, making it the second largest cryptocurrency. Market capitalization represents the price of the token multiplied by the number of tokens in circulation. When looking at the potential for price growth, it is important to look at the market capitalization relative to other currencies to determine the true growth potential of a project. 
Particularly for ETH, it is important to use market capitalization to compare the currency to Bitcoin (BTC). BTC Dominance is currently at a low level, meaning that BTC makes up only around 42% of the total value of all cryptocurrency. ETH and the many tokens built upon the Ethereum network are currently outpacing the growth rate of BTC, a bullish sign that indicates investors may see the Ethereum network as more important to the future of cryptocurrency than Bitcoin. 
Standard Chartered's Bullish Ethereum Price Prediction
British-based banking giant Standard Chartered set a price target of $26,000 to $35,000 for ETH. Its team of financial analysts believe that ETH is more similar to a financial market with more use cases than BTC, which they view as solely a currency. However, they note that for ETH to reach $35,000 and overtake BTC as the largest cryptocurrency, BTC would need to trade near $175,000. They add that ETH is a higher risk investment than BTC but could yield a higher reward. 
Van Eck's Bearish Ethereum Price Prediction
Van Eck is a global investment management firm that warns that governments could compete with ETH by creating Central Bank Digital Currencies, backed by government institutions much like fiat money. Van Eck remains bullish on ETH overall but notes that regulation can be one of the few things that can stop ETH's momentum.
Is Ethereum (ETH) a Good Long-Term Investment?
Ethereum is often considered one of the best long-term investments in the crypto space. It's the foundation for thousands of platforms holding tens of billions of dollars. It may have more utility than any other cryptocurrency because it gives holders access to all these different platforms. The number of applications seems to be growing too because due to one of Ethereum's greatest advantages: its ability to attract developers.
Ethereum has more developers working on the network itself and applications on it than any other blockchain. In 2021, Ethereum had more than three times the developers working on it than the next competitor, Polkadot. Ethereum had about 3,000 monthly active developers whereas Polkadot barely broke 800. This number has increased faster than ever in 2021. Ethereum attracted another 1,200 developers between January 2021 and January 2022.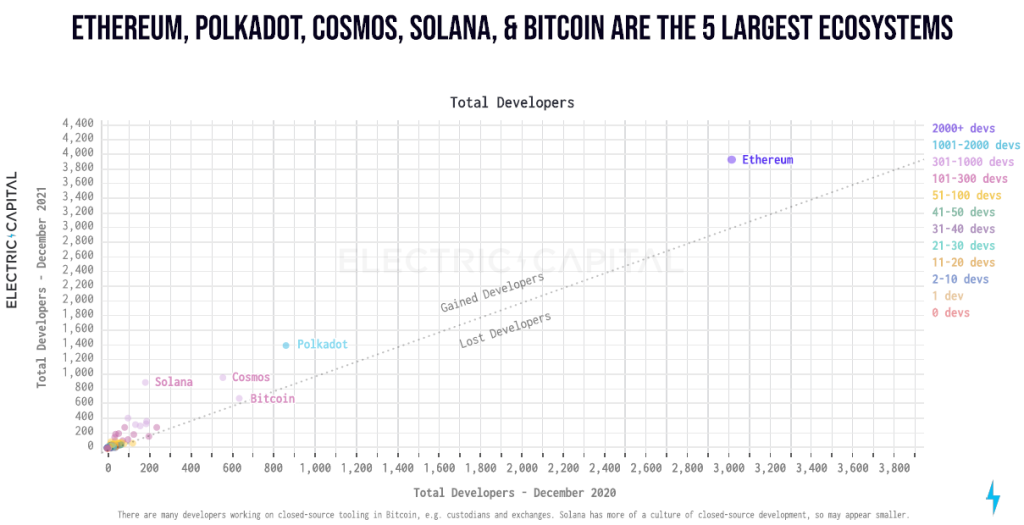 With thousands of active developers and an upcoming massive upgrade to the network, Ethereum seems like a shoo-in for one of the best long-term investments in crypto. It is expected to see a myriad of new Ethereum utility springing up as these developers launch their new projects. This is still speculation, however. It could take a long time for the world to emerge from its current financial crisis and hold Ethereum down in the process. Ethereum might never even reach its all-time high. 
How to Buy Ethereum (ETH)
Now that you have seen some of the top Ethereum price predictions, it's time to learn how to actually buy some. It's extremely easy. Every major cryptocurrency exchange offers it. Many stock brokerage apps even have it now. Some of the best trading platforms with…


Read More:Ethereum (ETH) Price Prediction 2022 • Benzinga Crypto