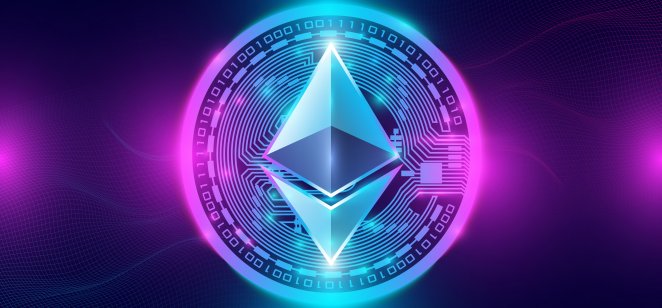 Ethereum (ETH) is the leading smart contracts blockchain in the world and its native crypto ETH is the second largest cryptocurrency with a market capitalisation of over $190bn, as of 22 July.
Ethereum's role in the blockchain industry is different from that of bitcoin (BTC). The former is a platform on top of which decentralised applications (Dapps) can be built, while the latter is focused on facilitating peer-to-peer decentralised payments.
The differences between the two leading blockchains do not end there. The tokenomics of ETH and BTC are distinguishable from each other. For starters, ETH does not have a hard cap like BTC's limit of 21 million coins.
You may ask how many Ethereum coins are there? Let's find out in the article below.
How many ethereums are there?
The concept of Ethereum came into existence in 2013, when Vitalik Buterin published its whitepaper describing a cryptographic ledger that allowed users to encode smart contracts and Dapps into its blockchain.
The network started with an initial supply of 72 million ETH tokens. An ETH crowdsale was conducted to fund the project's development in 2014 which sold about 83% of its initial supply in exchange for BTC. 
The initial price of ETH for the crowd sale was set at 2000 ETH per BTC and was designed to gradually decline to a final rate of 1337 ETH per BTC in the 42-day crowd sale that concluded on 2 September 2014.
According to blockchain research firm Messari, the crowd sale raised about $18m in BTC in exchange for 60 million ETH.
The total number of ethereum coins in existence today is different from its early days. After the launch of the Ethereum Mainnet in 2015, new ETH were minted with each block. Block rewards, initially set at 5 ETH a block, have now come down to 2 ETH a block. 
How many ethereums are there in circulation? As of 22 July 2022, circulating ETH supply stood at over 121.6 million, according to CoinMarketCap.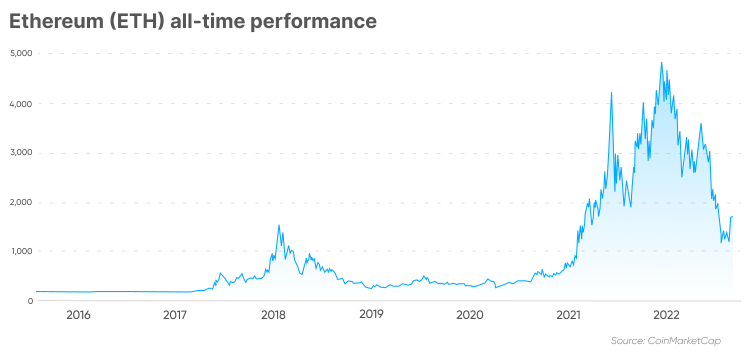 Effects of Ethereum 2.0 on ETH supply
Ethereum is on the verge of migrating to the proof-of-stake (PoS) consensus in a process known as 'The Merge' and 'Ethereum 2.0', which is expected to reduce the issuance rate of ETH.  
The process will see Ethereum ditch its proof-of-work (PoW) miners and instead reward newly-issued ETH tokens to validators who have staked ETH tokens on the network.
"There will be a sliding scale between total amount of Ether at stake and annual interest earned by stakers," said Ethereum in a
blog post
that indicated that ETH annual issuance could drop to as low as 1.71%.
Furthermore, validators' obligation to deposit ETH in an act known as staking will reduce the circulating supply of ETH going forward. As of 22 July 2022, over 13.8 ETH has been staked in anticipation of The Merge, thereby removing about 11% of the coin's current supply out of circulation.
It also should be noted that an Ethereum improvement proposal (EIP) called EIP-1559, which introduced burning of base gas fees in 2021, has been effective in reducing ETH's circulating supply since its implementation in 2021.
"Combined, staking and fee burning have a dampening effect on the supply of ETH. Some argue that with these changes, Ethereum is moving into a deflationary monetary policy that is stronger than Bitcoin's inflation reduction over time, leading to 'ultrasound money' in the end,"
Bitcoin Suisse
said.
Who owns the most Ethereum?
According to Ethereum on-chain data from Etherscan, the highest number of ETH was deposited in the Ethereum 2.0 staking smart contract followed by wrapped Ether smart contracts. ETH deposited in the aforementioned smart contracts amounted to about 14% of the total ETH supply, as of 22 July 2022.
What is your sentiment on ETH/USD?
Vote to see Traders sentiment!
Wallet addresses identified as those belonging to crypto exchanges Kraken and Binance had the third and fourth highest amounts of ETH deposited in them.
Two unidentified wallet addresses took up the fifth and sixth place and had about 1.95 million and 1.49 million ETH tokens in them, respectively, representing 1.6% and 1.2% of the total ETH supply, as of 22 July 2022. 
The two above-mentioned wallets were the only two unidentified addresses in the top 10 ETH holdings list, as the rest were identified as smart contracts, crypto exchanges and decentralised finance (DeFi) protocols.
At the time of its launch, 12 million ETH was distributed among early contributors and the Ethereum Foundation.
The current ETH holdings of early contributors and Ethereum insiders is not known. However, Buterin disclosed his wallet address in October 2018 on Twitter. He added that he "never personally held more than ~0.9% of all ETH, and my net worth never came close to $1b."
How many ethereums are there in total in the wallet identified as Buterin's? Interestingly, the wallet only holds 51.75 ETH, according to Etherscan data, as of 22 July 2022. It should be noted that a single user can own multiple wallet addresses.
Data from Messari revealed the top 100 ETH-holding addresses held 47.2 million ETH tokens, representing about 38.8% of the total circulating supply, as of 22 July 2022.
ARK Invest in its Big Ideas Report 2022 said that the ETH's market capitalisation could exceed $20trn in the next 10 years. 
"According to ARK's research ether (ETH) is both the preferred collateral in DeFi and the unit of account in NFT marketplaces, suggesting that it is likely to capture a portion of the $123 trillion global money supply," read the report.
What do you think of ethereum and its future? 
If you are considering investing in ethereum, we recommend that you do your own research to develop an informed view of what is a realistic market outlook. Look at the latest market trends, news, technical and fundamental analysis, and expert opinion before making any investment decision. Keep in mind that past performance is no guarantee of future returns. And never trade money you cannot afford to lose.
FAQs
How many Ethereum are left?

With Ethereum on the verge of completing its move to PoS consensus algorithm, ETH holders and validators have been staking their ETH tokens in order to earn rewards from it. As of 22 July 2022, over 13.8 ETH has been staked in anticipation of The Merge, thereby removing about 11% of the coin's current supply out of circulation.
How many ethereums are lost?

In 2016, an Ethereum decentralised autonomous organisation (DAO) called The DAO was hacked and 3.6 million ETH was stolen from it. The Ethereum blockchain executed a hard fork to restore the stolen funds, while the old chain that chose to keep the transaction history is now known as Ethereum Classic (ETC).
How many ethereums are mined per day?

Block rewards were initially set at 5 ETH mined a block. They have now come down to 2 ETH a block.
What happens when all ethereums are mined?

Ethereum will transition to the PoS consensus in the second half of 2022 in a process called The Merge. ETH mining will not occur after The Merge, as miners will be replaced by validators.
Further reading:




Read More:How Many Ethereums Are There? | Total Number Of Ethereum Coins